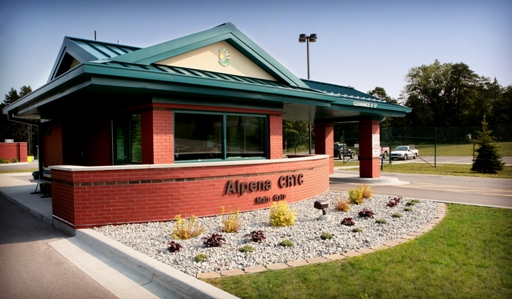 The Alpena Combat Readiness Training Center is an air force base located in Alpena, Michigan that is operated by the Michigan Air National Guard. Every year it hosts a special training program in conjunction with Camp Grayling in joint ground and air exercises.
Overview
Joint exercises are important aspects in combat training for a variety of reasons. There are not many cases that only ground forces or air forces will be attacking or defending a location. Timely and concise communication is required to coordinate a ground attack immediately after an air attack. If communication is lacking then friendly fire may be possible, or a delayed ground attack where the opposing forces can regroup and organize a better defense. It is also good practice in how to communicate with different groups other than your, either foreign or domestic.
Not only does Northern Strike provide a joint air/ground training exercise, it is also a multi-national exercise.  The operation has personnel from five different countries, Australia, Canada, Latvia, Poland, and the United States, while also have U.S. military from twenty states. All of this cumulates to a training session that, as close as possible, replicates a joint force operation.
The three week training session will help various air/national guard detachments become accustomed to combined force operations. The sessions provide training on arms up to 155mm Howitzer rounds, in combination with aircraft. The ground size of Camp Grayling, nearly 150,000 acres, allows for large forces to be utilized in live fire exercises. This provides a unique opportunity to practice "real world" exercises as they would play out in real battle/emergency circumstances.
Live fire training sessions are conducted at camp grayling quite often, however large scale operational exercises, such as operation northern strike, are not conducted as frequently.
Staff Sgt. Andy Troeger has said that the Northern Strike training at Camp Grayling and the CRTC helps prepare junior troops for future rolls as Sergeants. It provides them a unique training, which they can then pass onto future generations of soldiers. When Staff Sgt. Troeger was directing guardsmen throughout the operation their objective was to emulate a platoon on a patrol, and destroy an enemy position, as well as provide supporting fire and information to the assault element of the operation.
During the operation the same exercise may be repeated several times, each time with a higher sense of realism, starting from no rounds, and advancing up to blanks with real guns.  This gradual increase in the realism of the training can sometimes prove troublesome, much as a lengthy operation across seas can increase the difficulty of an operation. The incremental additions to the operation increases the time spent in the field, which leads to fouled weapons, sometimes jamming the guns, as well as a certain amount of stress on the trainees making once mundane things more and more difficult.
Another important aspect of Operation Northern Strike is the transport of troops between the Alpena CRTC and Camp Grayling. The CRTC does not host ground games during the operation, however some of the troops involved with the ground operations stay in the CRTC barracks. This means that troops must wake up at the CRTC, board aircraft, and fly to Camp Grayling in order to take place in the day's exercises.
Benefits to the local area
Not only does Operation Northern Strike help the personnel involved with the operation, it also helps the area surrounding the Alpena CRTC. Every year the operation brings over one thousand foreign/out of state individuals to the area. These people have several days off over the course of the three week training program. Many of them take advantage of this and come into Alpena, shopping at the local business and generating income for the small businesses around the area. Many of the businesses offer incentives for the troops that come in, offering a military discount for anyone that can show a military id.
The camp itself also houses military personnel year round, allowing local businesses to get more customers by supporting them.  All told the base generates thousands of new customers a year for the local economy, as well as boosting the local housing market with the overturn of new fulltime officers/staff that live off base.
The base also helps grow the local community. Several times a year the base will host junior high/high school students for a weekend on the base, introducing them to the military as well as performing group exercises with the students. These group exercises are supposed to help foster teamwork with the students, as well as reward students for achieving academic success while at school.
The training program is also trying to prove the worth of the Alpena CRTC to the higher ups in the United States military and contractors. The current/ex leadership at the CRTC, including Col. Brian Teff and Col. Roberts, have been trying to get more training exercises and programs at the CRTC for several years. One program that they have attempted to land at the CRTC includes a drone program where the base's airspace could be used as a testing ground for unmanned aircraft.
Overall the base and training program provides massive benefits to the area surrounding both Grayling and Alpena. It generates a lot of money in the local area, as well as increasing the tourism to both areas. People involved in the training program will come back to the area to hunt, fish, and visit with their families.
Influence on future conflicts
At its' core the Alpena Combat Readiness Training Center is just like it sounds, a base for which military personnel across all branches, as well as foreign visitors, may train to prepare for new conflicts. The base, along with Camp Grayling, performs this task without a fault. The CRTC prepares troops to their best capability with a variety of planes, helicopters, and large/small arms fire.
Operation Northern Strike is just one training program that the base carries out. The base is a year round training ground, while Operation Northern Strike is just a three week, once a year, operation. The base is constantly getting new troops to train, they may stay there for a week, or up to months at a time. All of these programs help train the troops for what they will experience if they have to go overseas to a foreign conflict.
Without training bases such as Camp Grayling and the CRTC the troops may have no experience in large scale encounters before they have to fight/patrol for real on foreign, possibly hostile, territory. The training programs offered at these bases help keep personnel allied with the United States safe, and get them home safely and quickly through comprehensive understanding on what to do in the field.
Primary Sources
1: Travis, Jordan. "Troops Continue Northern Strike Ops." The Alpena News. N.p., 28 July 2015. Web.
2: Schulwitz, Steve. "Northern Strike Holds Exercises at Alpena CRTC." The Alpena Ews. N.p., 21 Aug. 2014. Web
3: Fisher, Lee. "CRTC, Camp Grayling Provides Combat Readiness." Blog post. Dvidshub. N.p., 20 July 2012. Web.
Secondary Sources
4: "Factsheets : ACRTC – Alpena CRTC History." Factsheets : ACRTC – Alpena CRTC History. N.p., n.d. Web.
5: Cornett, Lloyd H., Jr., and Mildred W. Johnson. "A Handbook to Aerospace Defense Organization." (n.d.): n. pag.          USAF Patches. Web.
6: Piper, Tyler. "Michigan National Guard to Host Northern Strike 2016." MI National        Guard. N.p., 06 July                  2016. Web.