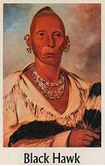 Black Hawk was the most noted Indian warrior in Illinois and Iowa during the early 1800's (Boyce, Rufus). He was born in the Sauk  village (near present-day Rick Island, Illinois) in 1767. His was given the birth name Ma-ka-tai-me-she-kia-kiak (Black Hawk State Historic Site) which stood for Black Sparrow Hawk in his tribe. Traditions in his tribe included trading furs to the French and Spanish, who were located in St. Louis, for supplies and weapons. Black Hawk first heard about Americans from his tribe and his hatred toward them grew when they made the Louisiana Purchase (The Gale Group). Black Hawk first became chief of his tribe at the young age of 15, and despite all the responsibilities he assumed as chief, he was successful. He soon began learning and utilizing the ideas of defense to be able to provide goods to his tribe. He recognized the qualities of care and love and how important they were in gaining the tribe's trust as their leader (Devlin).
Eventually, the settlers forced the Sauks to give their land away by signing a treaty. Black Hawk kept the safety of the tribe in mind as he reluctantly cooperated with the settlers. He insisted the treaty was unlawful because the tribesmen who signed the treaty did not have the authority to sell the land (Early Native American Literature). Despite losing their land, the Sauks knew there was a strong possibility for war. This thought is what kept the tribe strong and united (Devlin). Black Hawk did not want to bring war to his tribe, so he decided to write to the settlers about the terrible intentions they had. He knew the two cultures could never intertwine, but he was adamant on instilling a Native American viewpoint within the Illinois government (Devlin). For these reasons, Black Hawk decided to fight against the settlers alongside the British in the War of 1812 (Early Native American Literature).
The Black Hawk War
In 1828, Black Hawk led a group of 1,500 soldiers, women, children, and old men west of the Mississippi River in order to regain the land where they had originally settled (Black Hawk State Historic Site). The Americans soon began to make settlements of their own in this land and Black Hawk was not happy with his group's efforts. Black Hawk fled Illinois but was attacked by their militia. This was the beginning of the Black Hawk War of 1832 (Early Native American Literature). The fighting did not last long and the Sauks retreated as they were plagued by hunger and the women and children. While traveling through Wisconsin, they were attacked and defeated. Black Hawk was taken prisoner to Ft. Armstrong (Black Hawk Facts).
Battle of Wisconsin Heights
In 1832, soon after Black Hawk was captured, he traveled down a river via steamboat. During the ride, he was acquainted by John Shaw, author of Indian Chiefs and Pioneers of Northwest. According to Shaw, Black Hawk was happy to see him and talked openly about the war (a French interpreter accompanied Black Hawk and Shaw so they could converse). Black Hawk talked about how he was "in irons," meaning he was shackled and chained up in prison. Captured along with Black Hawk and many of his men was Waupella, a chief of the Fox tribe. Black Hawk continued to explain his side of the war: he had a habit of visiting the British post at Malden every year. In 1832, with the idea that visiting this post every year was tedious and that the whites were overtaking more and more land, Black Hawk decided to make a trek to Canada where he would settle with whoever chose to follow him (Shaw).
Before making this trek, Black Hawk was warned by Keokuck that if he intended to take his men along the predetermined path through settled lands in Wisconsin, the white inhabitants would see his approach as hostile. With this in mind, Black Hawk thought it would be better if he and his men kept as one large group rather than break down into smaller groups. Sure enough, soon after they had crossed the Illinois-Wisconsin border, Black Hawk and his men were approached by the whites. He had the hopes for an opportunity to explain to the whites the reasoning behind his men's movement. To Black Hawk's disappointment, he was pursued by men in armor, which he knew could only mean one thing: war (Shaw).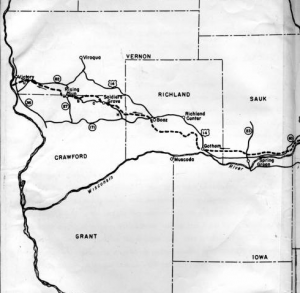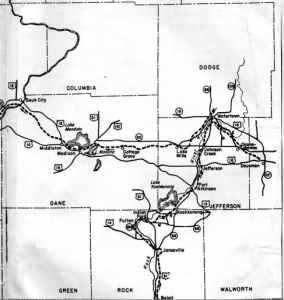 As much as Black Hawk and his men did not want war, they formed the best defense they could. Two things surprised Black Hawk: the fact that the Americans could ensemble such a large group rather quickly and that among them were Indians. Knowing he and his men were fatigued during the march with their women, children, and baggage, Black Hawk sought out an opportunity to speak with the Indians in the American forces, but he was unsuccessful. In lieu of this attempt, the night after the battle of Wisconsin Heights, Black Hawk climbed a tree near American settlements and shouted towards them that he did not want war and he only wished to leave the country (Shaw).
The whites continued to pursue Black Hawk and his men the next morning and knowing the shape his men were currently in, he made the decision to change their route and head towards the Mississippi River. To make movement a little faster, Black Hawk decided it was best to drop heavier and larger items and goods. Unfortunately, the Americans had also increased their speed, and overtook Black Hawk and his men at the Bad Axe River. Many of his men were killed and drowned during the fighting, but Black Hawk and the remaining men he had managed to escape and separate. Soon after escaping, Black Hawk was captured where he was locked up (Shaw).
Black Hawk met with President Andrew Jackson out east in 1833 and shortly after returning to Iowa. He worked for the Sacs and the Fox tribes with the government interpreter, Antoine LeClaire to produce his life's history (Krupat). Upon his return, Black Hawk learned the young men of the tribe did not want to fight anymore against the whites, so he spent his remaining time in Iowa. Black Hawk died on October 3, 1838 in his lodge on the Des Moines River (Black Hawk Facts).
Primary Sources
1. Boyce, Rufus, Smith, N. "Reminiscences of Black Hawk, by People Who Knew Him." Wisconsin Historical Society, 24 Mar. 1907.
2. Shaw, John. "Indian Chiefs and Pioneers of Northwest." Wisconsin Historical Society, 1888.
3. Hagan, William. "Black Hawk's Route Through Wisconsin." Wisconsin Historical Society, 1949.
4. Black Hawk State Historic Site. "History." Black Hawk State Historical Site.
Secondary Sources
5. The Gale Group. "Black Hawk Facts." YourDictionary, 2010.
6. Devlin, Shaun. "Black Hawk: An Autobiography and Its Influence on Native American Equality." Sep. 2005.
7. Early Native American Literature. "Autobiography: Life of Black Hawk Sauk-Sulattle." Early Native American Literature.
8. Krupat, Arnold. "Patterson's Life; Black Hawk's Story; Native American Elegy" Project Muse, 2015.