In 1944, early construction began on an airport in Marquette county in the Upper Peninsula of Michigan. Its name – K.I. Sawyer Airport.  By July 22, 1949, K.I. Sawyer officially activated as the County Airport for Marquette county.  In 1954, the U.S. Government entered into negotiations with Marquette County to lease over 5,200 acres of land to become the new K.I. Sawyer Air Force Base.  On January 4 1955, a 99 year lease was signed and construction commenced.
Throughout its history, K.I. Sawyer was the home to many Operational Units, including the Air Defense Command (ADC), the Strategic Air Command (SAC), and the Air Combat Command (ACC).  In January of 1956, K.I. Sawyer became the home to the 473rd Fighter Group, a unit of the Eastern Air Defense Command.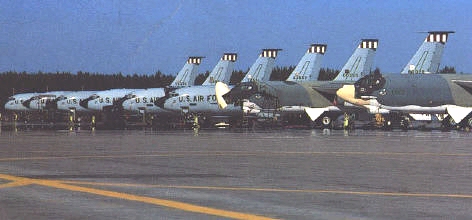 In February of 1963, the 410th Bomb Wing of the Strategic Air Command was activated at K.I. Sawyer, replacing the 4042nd Strategic Wing.  Later in 1963, the 410th Bomb Wing began to conduct flying operations with the B-52H Stratofortress and the KC-135 Stratotanker.
Unfortunately, in 1993, the Defense Base Closure and Realignment Commission recommended that K.I. Sawyer be closed.  On November 21st 1994, the last B-52 stationed at Sawyer leaves for Minot Air Force Base in North Dakota.  The deactivation of Sawyer had begun. On June 1, 1995, an Inactivation Ceremony was held.  In August of 1995, the process was complete, and a Deactivation Ceremony was held.  Chief Master Sergeant Vaughn Stewart, the last military member of K.I. Sawyer, left in December of 1996.
Currently, part of K.I. Sawyer serves as Sawyer International Airport, the region's primary civilian airport.  The remainder of the base has mostly been left alone.  Much of the former base area is unused and is slowly deteriorating.  A static aircraft display maintained by a local group houses six aircraft, representing the types of aircraft stationed there.  The K.I. Sawyer Heritage Air Museum currently operates out of the old base MWR building.
Sources:
Further Investigation: