Aerial Shot of Fort Custer during WWI
When most Americans think of WWII, they think of either the Pacific or Europe and the many battles fought, and men lost. The massive effort we put into the allied fight to push Hitler back out of France and the many islands we liberated leading right up to Tojo's door step. What most people don't think about was when the war come home. The Arsenal of Democracy backed up the men overseas but also held those that had been captured. POW's or Prisoners of War were an important consideration when it came to logistics and planning. In the case of Fort Custer, POWs from the African and European theater were sent here to Michigan to be held for the duration of the War. People are often surprised to hear this and a little shocked that the war found its way home in this form. Concern is the first thing that comes to mind, considering that there were enemy soldiers, while imprisoned, on home soil (Farquhar, 1997).  While warranted, it can be argued that the soldier's presence was a great benefit to the POW's, their captors, and the everyday men and women that interacted with the POW's.
FORT BACKGROUND
While his name may be synonymous with the Battle in which he died, General George Custer was at the time of his promotion, the US Army's youngest general. In commemoration of his service and legacy, The Fort Custer Training Center was built in 1917 and started as 'Camp Custer' to address the need for well-trained soldiers to fight in the on-going World War I. According to National Guard, more than 100,000 soldiers were trained/demobilized in the base for World War I alone and in 1940, the base was designated 'Fort Custer' as a permanent US Military Installation. The base was used as basic training for troops heading oversees to fight in World War II with a lot of the soldiers coming from Illinois/Chicago, Michigan/Detroit, and Ohio. Home to the 5th infantry division, over 300,000 soldiers were trained in the base for fighting in Europe.
Fort Custer acted as boot camp for US Soldiers, the opposite is true for the Prisoners of Wars brought to the fort. After the fighting in Northern Africa ended, close to 5000 German soldiers were brought back to the US to reside in POW camps as the resources required to keep them in a war ravaged African theatre were not available. The POWs were moved here and kept till the end of the war in 1945. In total during the war, the US captured and held some 371,000 German soldiers. Fort Custer housed a portion of the Northern African forces while also being a Military Training camp and Supply Redistribution depot.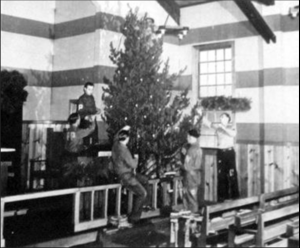 Fort Custer while not the first camp in Michigan to hold POW's, was the first permanent fort established to hold the wave of incoming prisoners. Experimental camps in Benton Harbor and Caro acted as a test to see if keeping POW's farther north than normal (most POW camps existed in the Southern/South Western US). A total of 32 POW camps/forts were established in Michigan throughout the duration of 1943-1946 with 5 camps residing in the Upper Peninsula. Pictured at right are some German POW's decorating a Christmas tree at Fort Custer (Hall, 2015)
POWs
While captured and held in the Fort, the POWs could expect to work in lumber mills, canneries, or farms. Records from the US Army dictated that around 5000 to 8000 POWs in Michigan worked in seed-companies, fertilizer plants, canning factories, or fruit harvesting (Hahn, 2000, 1). Camps in the UP primarily focused on wood production due to the lack of pulpwood caused by the war effort. POW's worked to chop down smaller trees to be used for paper product as larger trees were too dangerous and it was against the Geneva Convention (Hall, 2015, 63). In the case of farms, The United States Department of the Army was put under pressure by US farmers during the war due to the shortage of able bodied men to work as labor in farms. Their solution to this problem was to employ the soldiers as laborers on farms local to the camps the prisoners were held in. William Teichmann's fruit farm was one such farm. Teichmann owned a fruit farm in Eau Clare that grew peaches, apples, and cherries. Between 1944 and 1945, 8 German POWs worked as general labor on the farms (Pictured Right (Hall, 2015)),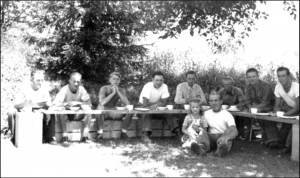 picking the assorted fruit that Teichmann grew. While they were prisoners, the Germans did receive compensation for their work. An excerpt from Lauren Hahn's Germans in the Orchards: Post-World War II Letters From Ex-POW Agricultural Workers to a Midwestern Farmer, describes it well. "The farmer's son, Herbert Teichmann, remembers that for each 8-10 hour working day, the men were paid 80 cents in canteen coupons, which could be spent at the camp store on candy bars, cigarettes, and toiletry items." (Hahn, 2000, 2).
The relationship between the Teichmann's was one of respect and trust. While the prisoners did have a relatively nice containment within their POW camps in the US which heavily adhered to the Geneva convention, a large reason for the good relationship between Teichmann and the Prisoners was that Teichmann spoke German and originally moved to the US is 1890 (Hahn, 2000, 3). In fact, the German heritage of the area in general was a large part of why the Prisoners on farms were treated with such respect. Farmers from Vassar and Frankenmuth MI specifically where the German population is high shared a bond with their prisoners. The hospitality extended beyond just common heritage and language to homecooked meals and even some more familiar recipes like Goulash. One farmer puts it, "Anyone that works for me does not eat off a wagon, but [rather] eats at my table with me" (Hall, 2015, 70).
POW's did in some instances try to escape captivity. Many creative ways to evade and escape were created by the Germans to get out of their camps but in an overwhelming amount of cases it was futile. Select cases exist where the POW's were able to survive outside of the camp despite their obvious "PW" marked clothing and distinctly German accent. Accounts of a daring escape by a Henry Ruhe, who at the time of the war was only 18, describe an escape from this camp in Arizona. Ruhe survived and made it all the way to Mexico, living off rattlesnake, prairie dog, and cactus. Eventually after running low on supplies and hitting the point of exhaustion, Ruhe turned himself in to a bar in Mexico where they were returned to their camp (Farquhar, 1997). Escapees from camps while rare, were largely harmless and under the Geneva convention, escapees didn't commit any crimes against their captors.
The POWs after the war was over were sent back home and by 1946 had all returned. Returning home in their mins may have been something of positive relief that they could return to their families and see their home again, but this wasn't the majority case. Many POW's were diverted to Great Britain and France as laborer's. The rebuilding of the allied countries in Europe needed workers and the POWs were all too easy to use. "In January 1946, I left America and hoped to see my home in a short time, but it was not the case. I must work in France … in a mine [and] … had bad health [due to] … the change of the food between American and France." (Hall, 2015, 74). Europe at the time was still an active war zone which meant that the food and supplies were scares and limited at best. Many POW's recounted their favorable experience of their time in the US and specifically POW camps after being transferred back home. Fort Custer after the war went on to become the base for several units of the Navy Reserve and Marine Corp during the late 40's to 50's as well as training close to 17,000 troops for the Korean War.
Primary Sources:
Farquhar, Michael. (1997) "Enemies among us: German POWs in America." The Washington Post https://www.washingtonpost.com/archive/1997/09/10/enemies-among-us-german-pows-in-america/e606d338-4d69-4298-9c4a-3ab4ad0d6336/.
Kevin Hall. (2015) "The Befriended Enemy: German Prisoners of War in Michigan." Michigan Historical Review, vol. 41, no. 1, pp. 57–79 http://www.jstor.org/stable/10.5342/michhistrevi.41.1.0057.
Krammer, Arnold (1976) "German Prisoners of War in the United States." Military Affairs, vol. 40, no. 2, pp. 68–73. www.jstor.org/stable/1987148.
Secondary Sources:
Reiss, Matthias. (2005) "Bronzed Bodies behind Barbed Wire: Masculinity and the Treatment of German Prisoners of War in the United States during World War II." The Journal of Military History, vol. 69, no. 2, pp. 475–504. www.jstor.org/stable/3397407.
Heisler, Barbara S. (2008) "Returning to America: German Prisoners of War and the American Experience." German Studies Review, vol. 31, no. 3, 2008, pp. 537–556. www.jstor.org/stable/27668591.
Hall, Kevin T. (2015) "The Befriended Enemy: German Prisoners of War in Michigan." Michigan Historical Review, vol. 41, no. 1, 2015, pp. 57–79. www.jstor.org/stable/10.5342/michhistrevi.41.1.0057.
Hahn, Lauren. (2000) "Germans in the Orchards: Post-World War II Letters from Ex-POW Agricultural Workers to a Midwestern Farmer." The Journal of the Midwest Modern Language Association, 33/34, pp. 170–178. www.jstor.org/stable/1315350.
For Further Reading:
https://en.wikipedia.org/wiki/Fort_Custer_Training_Center
http://minationalguard.com/fort-custer-training-center/
http://www.tioh.hqda.pentagon.mil/Catalog/Heraldry.aspx?HeraldryId=7117&CategoryId=3992&grp=2&menu=Uniformed%20Services&ps=24&p=0&hilite=Custer