The Newport Naval Air Station has been used for a lot of different things over the years. First as the air station and prisoner of war camp then as the Newport Nike Missile Base, Airport Community Schools, and as a training facility for the National Guard.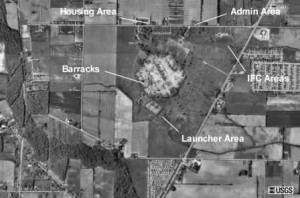 The Newport Naval Air Station, more commonly known as Newport Nike Missile Base, played an important role in America's defense system, especially during the Cold War. The base was first used as an emergency landing strip and training site for the Navy in the 1940's. Navy pilots trained at this facility during World War 2 and during the late 1940's it was also used to hold German prisoners of war (4, p. 93). From 1947 to 1953 the base was also used as the high school while school districts were consolidated (3, p. 9). This is where Airport Community Schools was developed. Airport Community Schools/Airport High School were later moved into the town of Carleton. The air station would later become a Nike missile base in 1955 until it was transferred to the National Guard Service in 1963. "No missiles were to be fired unless, "enemy planes approach Detroit", a Monroe News article from the 1960s stated.", (1, p. 1). In 1973, Monroe County received an 80 acre parcel of the base for recreational purposes. Monroe County turned this parcel into Nike park. The base remained operational under them until 1974. It was only when the base was finally shut down in 1974 that the missiles were removed from the site but the missile silos were left. This base is one of the sixteen Nike missile that were in the Detroit area (6, p. 1). During the Cold War, this was an important part of our defense system because Detroit is a big metropolitan area and is a big part of our automotive industry. Newport is also home to a nuclear power plant known as Enrico Fermi II NPP.
A typical Nike missile base had a launch area and a control area. The control areas typically had generator buildings so that during launches they would not have to use the regular power grid. Newport's missiles consisted of Nike Ajax and Nike Hercules missiles.
The Newport missile base was home to 30 Ajax missiles and 12 missile launchers (5, p. 1). Due to the number of launchers the base had two control areas and the launch area occupied roughly 10.5 acres of land. The control area was situated on 18.75 acres of land. The base itself was over 375 acres of land with a total of thirty three structures on its premises. Some of these buildings included a mess hall, guard shack, theater building, sewage treatment plant, and barracks. While some of the building were removed and many fallen down, there are still eleven structures on the old base site. The old barracks were converted into condominiums some years after the base was deactivated. The remaining acreage of the Nike missile base was recently sold off to a private party and is no longer government property.
Some locals have toured the facility back when it was operational and claim that there are tunnels that go all over underneath the property. However this cannot be verified with contemporary sources. The decommissioned Newport Nike missile base is the best preserved example of what a Nike base in Michigan looked like.
More recent activity involving the old Newport Nike missile base began in May of 2016 when a 36.35 acre portion of the base was put up for sale. The parcel of land contained 3 block buildings that hold little value. This portion of the base did not contain any of the missile silos. The silos were located on the 200 acre parcel that was sold in the 1980's to a family from San Diego, California. The 36.35 acre parcel would be ideal for development since it is located near highway I-275 and I-75. It also has road frontage on  US-24 which is a very heavily travelled road. The parcel of the Newport Nike missile base was sold in April of 2017 to a local firm based in South Rockwood, MI (2, p. 1).
Secondary Sources
[1] Cousino, Dean. "Nike Missile Base Site Draws Online Buy Bids." Monroe Evening News, 17 May 2016, www.monroenews.com/news/20160517/nike-missile-base-site-draws-online-buy-bids.
[2] Cousino, Dean. "Part of the Land at Nike Missile Base Sold to South Rockwood Firm." Monroe Evening News, 24 Apr. 2017, www.monroenews.com/news/20170424/part-of-land-at-nike-missile-base-sold-to-south-rockwood-firm.
[3] "Newport Nike Missle Battery D-57/58." Historic American Engineering Record, pp. 1–26., lcweb2.loc.gov/master/pnp/habshaer/mi/mi0400/mi0408/data/mi0408data.pdf.
[4] McKillop, Jack, et al. "OLF Newport." Olfnewport, NASGIVM, 30 June 2010, nasgi.net/olfnewport.htm.
[5] "Site D-57 – Newport." D-57 – Carleton/Newport | The Nike Detroit – Cleveland Defense Area Website, ARADCOM, 10 Mar. 2014, nikehercules.tripod.com/d-57.html.
[6] "TheMilitaryStandard – Nike." Nike Missile Battery D-57/58 Detroit Michigan, The Military Standard, www.themilitarystandard.com/missile/nike/d57-58.php.