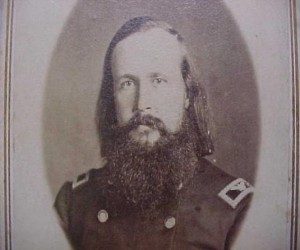 Col. William Power Innes, the commanding officer of the First Michigan Engineers and Mechanics served the Union during the American Civil War from the opening of the war to its close, 5 long years later.  He gained for himself and his regiment a respect only deserved by the bravest and humblest of servants to the Union and the entire regiment commanded by Innes would prove their worth to the country several times over throughout the war.
Shortly after the secession of the Confederate States, several residents of Grand Rapids, Michigan went to the office of William Power Innes in the hope of raising a regiment of Michigan Engineers for the war effort.  All men involved, including Innes, were civil engineers for the city and surrounding areas; in fact Innes had just finished overseeing the construction of a railroad from Detroit to Grand Haven, the first direct railroad across the state.  Being a distinguished leader and engineer in the area made Innes a desirable candidate to command a Michigan regiment of engineers despite his lack of military background.
William was not a Michigan native.  Born in New York to a widowed mother, her support influenced William's aspirations to succeed and he entered the employ of the Erie Railroad at age 16.  At age 27, he moved to Michigan to work as a civil engineer for the Detroit, Grand Haven and Milwaukee Railroad Co. where he worked on several railroad projects, including the first surveying for a track from Grand Rapids to Mackinaw City.
Under the supervision of some of Michigan's finest engineers, the all volunteer regiment was renowned for their ability to construct bridges, pontoons, and all manner of structures needed for the Union Army using the resources available. The Bridge over Elk River in Tennessee, a 460 foot long structure that was over 50 ft. high in some places took a detachment less than 8 hours to build using only timber from the surrounding forest.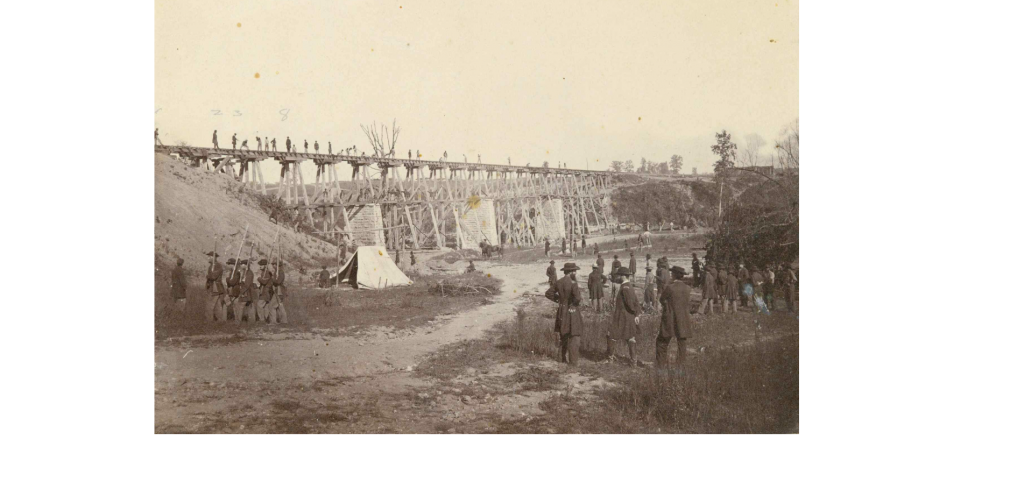 Construction was not the only task entrusted to Col. Innes and his men, the engineers were known not only for rapid construction and repair but also for efficient and swift destruction.  Countless Confederate communication lines were disabled by the Michigan men, as well as roads, bridges and railways.
Soon after the Battle of Bull Run in the summer of 1861, President Abraham Lincoln gave special permission to Innes to raise the 1st Michigan Engineers and Mechanics, giving him sole authority to choose his officers and distribution of the 10 companies and an artillery battery where he saw fit.  On October 29, 1861, Colonel Innes Mustered the 1st Michigan Engineers and Mechanics Volunteers.  Although the Regiment was an engineering one and was made entirely of volunteers, they were paid and recognized as a regular army regiment.  The 1st Michigan Engineers marched out of Michigan for Louisville Kentucky on Dec. 17, 1861 and would not return until Oct. of 1865.  Soon after marching to Louisville in Dec. of 1861, Col. Innes and his men joined the Ohio Army under Gen. Buell.  The company was then split up into small detachments that accomplished a myriad of crucial tasks for the Union forces throughout the entirety of the war.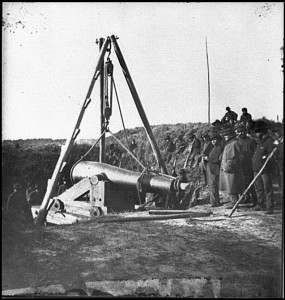 Although primarily a non-combative regiment, the First Michigan Engineers saw their fair share of enemy engagement.  During the winter of 1863, the regiment was charged with transport and protection of a wagon train near Nashville, TN.  Innes and his men were attacked on the road by an overwhelming force of rebels ten times their own size. While only numbering 391 men, the volunteer regiment fought off a Confederate cavalry force of three to four thousand men.  With nothing but wagons and slight brush as protection, the Michigan men fought and would stand victorious while sustaining only fifteen casualties, and only two confirmed dead.  Before the Confederate force retreated, however, their command, Gen. Wheeler had sent terms of surrender to the regiment.  Innes' reply would become the regiment's motto, replying to Wheeler with a simple but effective message: 'We don't surrender much'.  Col. Innes recounts the day in his official battle report:
"I have the honor to report that, in accordance with your orders, I broke camp at Mill Creek on December 31, at 7 a. m .,and took up line of march for this point, sending my wagon train around by the pike, and went into camp at this point, about three-quarters of a mile south of the village of La Vergne, on the Murfreesborough pike.
"About 2 oclock on the following day my command, numbering 391 effective men, was attacked by a rebel force of cavalry under command of Generals Wheeler and Wharton and Colonel Morgan, of Alabama, said to number between 3,000 and 4,000 strong, with two pieces of artillery. They first dispersed the wagon guard and teamsters of the train going north, and fired and plundered about 30 wagons. The enemy attacked us with great fury, making seven distinct charges upon us, attacking us on every side, mounted and on foot, dashing forward in a gallant and determined manner, but were again and again severely repulsed by my gallant regiment.
"During the interval between their cavalry charges their artillery were throwing shot and shell, some of them causing considerable damage. At about 5 oclock the enemy sent in two flags of truce, demanding an immediate surrender of our position, which I peremptorily refused. They sent in another flag of truce, asking permission to bury their dead, which I refused, and returned for answer that I would bury their dead and take care of their wounded.
"In the mean time I had dispatched a messenger to Colonel Burke, of the Tenth Ohio Infantry, stationed at Stewarts Creek, asking him for re-enforcements, which was promptly answered by that gallant officer, who immediately came to my rescue with a section of the First Ohio Battery, in command of Lieutenant Newell, and four companies of the Tenth Ohio; and, although he did not arrive until the enemy had re- treated, yet too much credit cannot be given to that gallant officer for his promptness in coming to my aid, which he did under the double- quick.  It is impossible for me to make personal mention of either officers or men where all behaved so gallantly. Every officer was at his post and every man did his duty. The coolness and bravery of the officers was only equaled by the promptness and efficiency of the men.
"The following is a statement of the casualties, as near as I have been able to learn: Our loss, 2 killed, 9 wounded, and 5 missing. Enemy's loss, 6 killed, buried by our men; 6 wounded, taken to our hospital, and 7 prisoners. From what I have been able to learn from prisoners, the enemy acknowledge their own loss of killed and wounded at between 40 and 50. We lost 41 horses and mules, and had 3 wagons entirely de- stroyed and others damaged by the bursting of shell. I have the honor to remain, major, your most obedient servant,
WM. P. INNES"
Colonel Innes took great pride in the effectiveness and bravery of his regiment and would defend them and their honor whenever necessary.  When a rumor of cowardice on the field of battle by his regiment reached his ear, the Col. forcefully denied and refuted any such claim, not allowing the regiment he had the honor of commanding to be belittled by false accounts.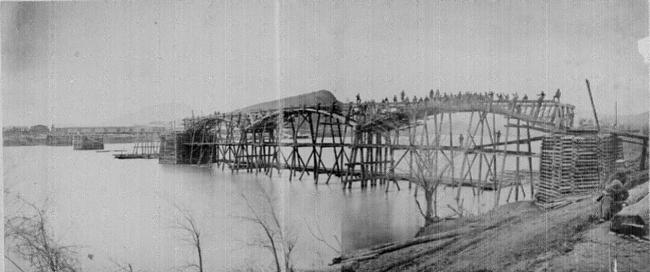 Despite their ability to engage the enemy in combat quite effectively, the First Michigan Engineers were still predominantly a laboring force charged with orders pertaining to construction.  While under the command of General Rosecrans, who succeeded General Buell, Innes was appointed to be Military Superintendent of Railroads, giving him full control over the railway construction and repair during Rosecrans' time as a general.
In March 1865 Colonel Innes was Brevetted Brigadier of Volunteers for gallant and efficient service. He served the Nashville and Chattanooga Railroad for several years after the war's completion but eventually returned home to Michigan where his four children and wife Arianna waited.  Once back home in Grand Rapids, Innes worked as an insurance and real estate agent.
William developed an interest in Freemasonry at a young age and would become a prominent member of the Freemasons in his community later in life.  He served at several positions, and eventually became Grand Master of his Chapter for a time.
Primary Sources:
The War of The Rebellion: A Compilation of the Official Records of the Union and Confederate Armies. [Report of Col. William P. Innes, First Michigan Engineers, of Attack on Wagon Train Near La Vergne, January 1] (1902) Washington: Government Printing Office.
Report of Col. William P. Innes, First Michigan Engineers, of Skirmish Near Corinth, Miss., May 9.  (1884) Washington D.C., Government Printing Office.
The Papers of Andrew Johnson. Volume 6, 1862-1864 (1983) Knoxville, The University of Tennessee Press.
Secondary Sources:
Baxter, Albert (1891) History of the City of Grand Rapids. Grand Rapids, Michigan: Munsell and Company Publishers.
Hoffman, Mark (2007) "My Brave Mechanics": The First Michigan Engineers and Their Civil War. Detroit, Michigan: Wayne State University Press.Sligh, R. Charles (1921)
History of the Services of the First Regiment Michigan Engineers and Mechanics, During the Civil War (1861-1865) Grand Rapids, Michigan.
Robertson, JNO. (1882) Michigan in the War. Lansing, Michigan: W.S. George and Co., State Printers and Binders.
Further Reading: