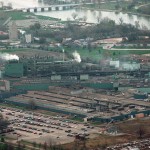 General Motors Saginaw Steering Gear Plant 2, nicknamed the Gun Plant, was a major manufacturer for the United States war machine during WWII. M1919A4 machine guns and M1 Carbines were produced in great numbers and in excellent quality in the Gun Plant. These guns were enormous for helping United States soldiers win on the battlefield.
The war effort saw the United States government expense 65% of the total manufacturing industry investment in plant and equipment during the years of WWII (Bloomquist & Hook, 1992). Using part of that 65%, GM was able to expand its own Saginaw Steering Gear division, building GM Saginaw Steering Gear Plant 2 using a military contract for M1919A4 machine guns. Steering Gear Plant 2 was named the GM Gun Plant unofficially by the workers and engineers that helped oversee its construction and production of the machine guns from 1940 until 1945. The Gun Plant was an important member of the United States War effort during WWII.  This plant was responsible for the manufacturing of the Browning 1919 machine guns and later on M1 Carbine semi-automatic rifles. The Browning 1919 machine gun was a .30 caliber, air cooled machine gun weighing in at 36 pounds and capable of firing 600 rounds per minute for the model A4 (Johnson, 1946). The M1 Carbine was a light semi-automatic .30 caliber rifle with a 15 round magazine originally designed by Winchester Rifles (Jones, 2005). Steering Gear Plant 2 contributed largely to part of the half-billion dollars worth of war time materiel from Saginaw industry (Half Billion, 1946).
Exploration of Mass Production of M1919 A4 Machine Gun
In 1937, Saginaw Steering Gear was asked by the Detroit Ordinance Division to explore the possibility of manufacturing the Browning 1919 machine gun using similar methods Steering Gear used for steering component production , General Manager Alva W. Phelps agreed to take on the job. This would be the first machine gun ever produced by a United States Automobile Company. Arms experts at the time believed the A4 could not be mass produced due to each part having to be machined, fitted, then re-machine, and then fitted once again. On June 15, 1940 Saginaw Steering Gear is offered and educational order from the government to begin exploring the possibility of mass production of the M1919 A4. Engineers assigned to the task of producing the machine guns began working 100 hour weeks to eventually gain a military contract (Nexteer Automotive, 2015). On September 15, 1940 the company was awarded the contract to begin manufacturing (Gun Contract Let to Steering Gear, 1940). Originally, GM Saginaw Steering Gear Division employed on average about 1000 people and occupied a 200,000 square feet manufacturing plant.  When the manufacturing began the engineering, superiors, and management departments had to be split in half to accommodate both machine gun programs and GM part production. To meet the contract quota, a new plant was built to accommodate only M1919 machine gun production. At the height of production, the 245,000 square feet plant employed 4,000 employees. Most employees were transferred from the original plant and many were hired and trained while on the job (Saginaw Steering Gear Division of General Motors, 1945).
Production and Cost Cutting
The first machine gun produced in the new plant was completed on March 27, 1941, seven months ahead of the December, 1941 deadline (Rogers, 2012). The first M1919 A4 machine gun had 190 small components, most required machining and as many as 77 successive operations. During peace time operation, Saginaw steering dealt with on average assemblies of an average of 29 components, many of which were large and different nature such as gears and joints. Tolerances were tight for the M1919 A4 with some parts requiring 0.002 inches all the way to 0.0005 inches (Saginaw Steering Gear Division of General Motors, 1945). Tolerances for production is usually set high due to variances with part fixturing and machine accuracy, this is considered to be quite a feat for 1940 production. Motion and time studies were conducted in the plant to be able to produce the guns as efficiently as possible. Copies of these studies were incorporated into advanced time and motion study course at Harvard University due to great results of the study (Nexteer Automotive, 2015).  Effects of these studies were significant when Plant 2 again exceeded expectations when the deadline of March, 1942 approached. 280 guns at a price of $667 per gun were expected to be delivered according to the contract. Plant 2 was able to produce 28,728 guns by that time and reduce the price to $141.44 by the deadline. By the wars end, 412,000 Browning 1919 Machines guns were produced. Plant 2 was able to save the government $240,000,000 with pricing reduced to $54.72 per unit at the end of the war (Nexteer Automotive, 2015). On June 30, 1943 Saginaw Steering Gear voluntarily offered the United States Government $6,743,780 for its machine gun contract. Major N. W. McCormick, United states Army, Detroit Ordnance District said this about production from Saginaw Steering, "In addition to your exceptional production record, Saginaw Steering Gear has reduced the cost of a gun to less than 25% of your original  estimate when you started production. The achievements of this division are fantastic, unbelievable," (Saginaw Steering Gear Division of General Motors, 1945). The results of Saginaw Steering Gear wartime effort led to the company receiving the Army-Navy E two star award for production efficiency and excellence (New Gun Contract To Steering Gear Plant, 1943).
Redesigns of M1919 A4
Many components of the gun which required rolled steel, that was in short supply, were redesigned to incorporate Arma Steel, which was a "Pearlitic Malleable" casting or an iron alloy. Using Arma Steel resulted in 1,368 tons of steel being conserved by January of 1943. Examples of these redesigns would be the front barrel bearing which went from three parts to one, gun cover which went from seven parts to one, another would be the lock frame which went from eight parts to one casting. Each example improved the guns overall performance by providing additional rigidity, which reduced the guns tendency to lose its critical adjustment peak. The redesigns lead to no weight increases but lead to a considerable decrease in production cost, the redesigns caused the guns to perform with less malfunctions as well. The original method of production required 37 different steels, by the end of the war it was reduced to only 16 different steels. These reduction resulted in the number of tooling changeovers necessary to be cut in half. Due to the shortage of material, Saginaw Steering implemented a production control policy of having no single material piece sit in plant for over 21 days. This reduced the material footprint during a starving manufacturing material period (Saginaw Steering Gear Division of General Motors, 1945).
Saginaw Steering Gear Gun Plant 2 Workforce
In the redesigns that Saginaw Steering made to the M1919 A4, man hours per gun went from 76 all the way down to 19. This was critical to produce the number of guns that Saginaw Steering manufactured due to the shortage of availability of eligible laborers due to the national draft act. Many of the employees that were able to be hired had never worked in a factory beforehand. Saginaw Steering had to train them to use machinery but also in addition sell them on punctuality, safe work habits, healthy attitudes, and the importance of a clean work area. Motion economy was instituted through the United Auto Workers Union in Saginaw Steering Gear plants to show workers how to do his or her job with the minimum amount of effort input to provide the maximum output of production. A suggestion campaign was also instituted by the United Auto Workers Union to allow an employee could suggest to management where an operation could be reduced or cut to maximize production, if the suggestion was used the employee would receive war bonds in return. When working men would be drafted to the armed services, women would be hired to provide stable employment. Saginaw Steering found that women employees cannot be counted on as well as men since many are not willing to put in a full work week and absenteeism is high. Repeating offenders were replaced resulting in a relatively high work force turnover rate.
Manufacturing Improvements
Manufacturing of the M1919 A4 machine gun allowed for the development of production methods to increase productivity, to do this Saginaw Steering Gear changed nine methods. They explored faster feed rates for machines which led up to four time's higher productivity. Standard tooling for broaches, grinders, lathes, and saws were redesigned to handle up to five times more material than originally designed for. Carbon-tipped cutting tool on lathes replaced high speed steel cutting tips resulted in a 10% production increase. Plant layouts were developed to increase worker efficiency by 37%. Bulk stock transfer methods were used, resulting in the elimination of inefficient conveyor systems. Chip and oil reclamation system was changed to increase efficiency by 15%. A double fixture system was added to Mills so that one fixture could be operated on and the other be loaded with blank material. This saved time by continuously running the mill instead of shutting down to unload and load the fixture. Engineers designed and built an automatic barrel washer to eliminate the need for hand washing barrels before inspection, which lead to a 50% production increase per hour. Finally, surface broaching was used to replace some milling operations which led to an increase in accuracy and a decreased production cost (Saginaw Steering Gear Division of General Motors, 1945).
Research
Saginaw Steering actively participated in sharing engineering developments and manufacturing techniques with similar companies, even so far as to share with companies producing similar guns for the Canadian Government. Saginaw Steering Gear was also asked to study and redesign a captured German machine gun. Steering Gear took this on even after experts at the Aberdeen Proving Grounds had declared it useless to American Ordinance Manufactures (Saginaw Steering Gear Division of General Motors, 1945). Progress was made incorporating positives of the German gun into American weapons. Steering Gear also started a without contract development program on the M1919 A6 machine gun. The benefit of the A6 over the A4 was the reduction from a three man squad to a two man squad (Nexteer Automotive, 2015).
Outsourcing Solutions
During production Saginaw Steering Gear relied heavily on an already taxed subcontracting talent pool. Since machine gun production was foreign to GM tool makers, Steering Gear looked else were to provide tooling in the form of subcontracting although Steering Gear took for responsibility for any delay in product due to the delay of subcontracted tooling. An example of Steering Gear subcontracting would be for two narrow ring parts that used seamless tubing in March 1942. Seamless tubing orders already had overtaxed subcontracted suppliers and supply was unavailable. To prevent halting machine gun production, the purchasing and metallurgical departments worked with a local stamping company to produce stamped substitutes for the narrow ring parts. Through using a subcontracted local company, Steering Gear was able to conserve 6,000 pounds of seamless tubing over the next twelve months (Saginaw Steering Gear Division of General Motors, 1945).
M1 Carbine Production
In 1943, Saginaw Steering was asked to manufacture M1 carbines when a Grand Rapids, Michigan based company was unable to fulfill their contract to produce a rugged enough gun (Rogers, 2012). Saginaw Steering immediately began producing the carbines and to the durability standard required. The military soon ordered more M1 Carbines than Plant 2 could produce. To accommodate the numbers required, Saginaw Steering took over Irwin-Pedersen in Grand Rapids, Michigan and began retooling the furniture factory to produce only M1 carbines. During the war, M1 carbine production became split between the Grand Rapids plant and Steering Plant 2. By the end of the war, 517,000 M1 Carbines were produced under the Saginaw Steering name, with half of the 517,000 guns being produced in Steering Plant 2 (Nexteer Automotive, 2015).
Primary Sources
Saginaw Steering Gear Division of General Motors. (1945). Analysis of Performance: Saginaw Steering Gear Divsion's War-Production Contracts. Saginaw: General Motors
New Gun Contract To Steering Gear Plant. (1943, February 21). Saginaw News.
Gun Contract Let to Steering Gear. (1940, September 14). Saginaw News
Secondary Sources
Bloomquist, L. E., & Hook, G. (1992). The Legacy of World War II for Regional Growth and Decline: The Cumulative Effects of Wartime Investments on U.S. Manufacturing, 1947-1972. Social Forces, 304.
Half Billion. (1946, January 13). Saginaw News.
Johnson, M. M. (1946). Automatic Weapons for the Future. Marine Corps Gazette, 10-14.
Jones, C. A. (2005). M1 Carbine Developed as 'Light Rifle' in WWII. Marine Corps Times, 42.
Nexteer Automotive. (2015). Nexteers Contributation to WWII. Saginaw, MI.
Roesner, J. (2012, December 26). Saginaw Steering Gear Plant 2 lives on as former employees gather more than a decade after factory razed. From mlive.com
Rogers, D. (2012, April 22). Why Did U.S. Win WWII? Saginaw Gun Plant Personifed Patriotic Production. From mybaycity.com