Camp Grayling is the largest National Guard Training Center in the United States spanning 147,000 acres.  Today it is an installation used almost exclusively for training.  It has training facilities for battalion size elements and smaller including artillery, cavalry, and certain air elements.  It is a Joint Maneuver Training Center where commanders can practice using all three elements in training here.
Camp Grayling was started in 1913 by the state of Michigan after Rasmus Hanson granted 13000 acres of land to the state.  At the time, this was becoming quite common for large logging companies to pay their taxes by giving cleared land to the state instead of money.  This donation became a National Guard Training camp and grew from there.  Camp Grayling was primarily an infantry training center from its beginnings.  The camp was used a mobilization center before and during World War I, but it was used extensively before and during World War II.
Although the camp was geared towards infantry training, there were also some pilots that trained there as well.  During training and preparation for and during World War II, there were few installations that could train and house the influx of new soldiers.
Camp Grayling was one of the installations that functioned both as a primary training site and as an overflow for other locations such as the Selfridge Air National Guard Base near Mount Clemens Michigan for the 5th Squadron of the 52nd Pursuit Group.  The 5th squadron flew most days. They were there from morning to noon when the planes went in for maintenance.  Because of the size of the camp, it was quite easy for pilots to fly outside of the vision of their superiors and many younger pilots frequently would perform fly-by's near the surrounding farms.  On one occasion, a pilot flew quite close to a farmer's flock of turkeys causing them to stampede and some to die.  The pilots had to pool money to pay back the farmer for the turkeys.  Another incident happened when a farmer did not appreciate the pilots' antics as it scared some of his livestock, so he brought his .22 rifle with him one day while working and actually shot one of the planes as it flew past.  After the officers finished dealing with all of the problems caused by their pilots, they could enjoy time at the Camp Grayling Officer's Club built in 1917 and still functioning to this day.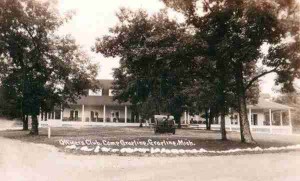 Preparation for World War II was in full swing by 1941, but the 5th Squadron was not the only group training at Camp Grayling.  Many regiment and battalion sized elements trained at Grayling in the years before World War II including the 337th Infantry Regiment, the 125th Infantry Regiment and the 126th Cavalry Regiment.  The 107th Engineer Battalion also trained at Camp Grayling during the summers of 1937-1939 and this is part of the 107th Engineer Battalion posing for a picture in 1937.

The battalion was starting to gear up for the United States inevitable entry into World War II.  National Guard units were being mobilized around the country and in Michigan, it was no different.   The National Guard training base, Camp Grayling, was beginning to prepare to take the incoming troops and prepare them for war.  The environment at Camp Grayling was quite similar to many areas in Europe and would provide an adequate simulation environment for the fighting and movement that would occur in Europe.  The climate, foliage, and terrain of central Michigan are all very similar to Europe and helped commanders understand early what types of movement and maneuvering would be necessary.  As the battalion entered Grayling they would see this entryway.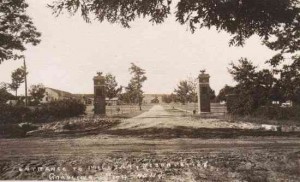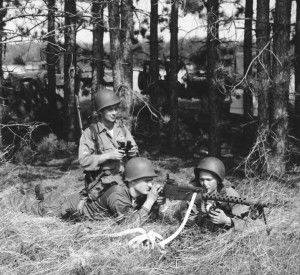 As one of the largest National Guard training bases even then, there was more than enough space for multiple separate groups to train.  Infantry groups could practice maneuvers and marksmanship at different ranges around the camp while the pilots were still flying.  Camp Grayling was large enough that artillery and cavalry groups could train and perform live fire drills safely.  However, the vast majority of the training and maneuvering and firing practice.  On the left is one example of an infantry group practicing marksmanship at one of the many ranges at Camp Grayling.  On the right is a machine gunner team practicing for setting up and spotting.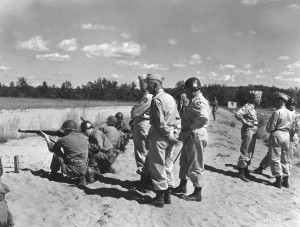 Camp Grayling acted primarily as an infantry training camp before WWII, but there were also cavalry groups that trained there as well as the 126th Cavalry Regiment.  All the space was utilized at Grayling in the years before World War II, both in the barracks and out in the training fields, whether that be for tanks to move through the woods or a battalion of troops to set up a camp or planes flying overhead.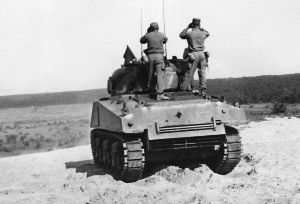 This image shows two soldiers looking out over the area from the back of an M4 Sherman Medium tank.  Tank training occured at Grayling as well, with plenty of space for movement and tactics training as well as areas for live fire training of the tanks.  Before the war, there was quite a bit of training for tactics and logistics, however during the war, there was some training and testing of new tanks such as the M24 Chaffee which saw production during the war and pictured below.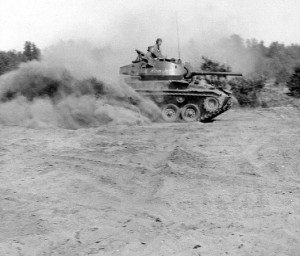 This image shows a Chaffee training at Grayling for quick maneuvering.  Many different groups trained at Camp Grayling, before, during, and after World War II.  The 107th Engineer Battalion still trains at Camp Grayling on occasion and now Camp Grayling is even larger and accommodates more people and types of training than it did in the 1940's.
The 126th Infantry Regiment was mobilized and sent to the Pacific Theater of the war and participated in the Battle of Buna-Gona.  The 126th had the most casualties of their division, the 32nd Infantry Division, and had less than a full battalion left after the battle.  The 32nd Infantry division logged more days of combat than any other US Army Division totaling 654 days of combat.
The 337th Infantry Division participated in the Mediteranean theater of the Italian Campaign and was part of the main force that took part in Operation Diadem.  The regiment helped take Castellonorato, Terracina, Monte Artemision and Lariano before breaking through the German's Gothic Line.
The 107th Engineer Battalionwas part of the invasion of Normandy and also was part of the force that pushed the German's out of Paris.  The Battalion fought through France and participated in the Battle of the Bulge and helped cross the Rhine River into Germany.
Since World War II, Camp Grayling has grown larger and trained many more soldiers.  The camp helped train soldiers before both the Korean and Vietnam wars and the wars in the Middle East to a lesser degree.  I also have a personal connection with Camp Grayling.  Near the beginning of this year, 2015, I traveled to Camp Grayling with Michigan tech Army ROTC and we conducted a Leadership Development Exercise, LDX, with Northern Michigan Cadets where we conducted multiple ambush drills using air soft weapons and convoy security drills using the Army's Virtual Battle Simulation software.  Camp Grayling is simply huge and the number and variety of training simulations and drills is quite impressive.  Hopefully Camp Grayling will continue to train and hone future soldiers for years to come.
All of the images were taken at Camp Grayling.
Primary Sources
Bay City Times Opinion, MLive. "Editorial: Camp Grayling Has Proven Its worth Time and Again during First 100 Years." MLive. Advance Digital, 29 July 2013. 20 Oct. 2015.
Stonehouse, Frederick. "107th Engineers World War II" 107th Engineers. Chapter VI World War II. 107th Engineer Association, 15 Oct 2015. 20 Oct 2015.
Walters, Christine. "Crawford County Michigan History & Genealogy."Crawford County Michigan History & Genealogy. Genealogy Trails, n.d. 20 Oct. 2015.
Secondary Sources
4. "Grayling." Grayling. Michigan National Guard, n.d. 12 Oct. 2015.
5. Stanton, John. "Camp Grayling." – FortWiki Historic U.S. and Canadian Forts. 26 Nov. 2015. 12 Dec. 2015.
6. Ivie, Thomas G., and Paul A. Ludwig. "Activation and Training." Spitfires and Yellow Tail Mustangs: The 52nd Fighter Group in World War II. Print.
Tertiary Sources
7. "Camp Grayling." Wikipedia. Wikimedia Foundation, 19 Aug. 2015. 12 Oct. 2015.
8. "32nd Infantry Division." Wikipedia. Wikimedia Foundation, 16 Nov. 2015. 12 Oct. 2015.
9. "337th Infantry Regiment." Wikipedia. Wikimedia Foundation, 30 Oct. 2015. 5 Nov 2015.