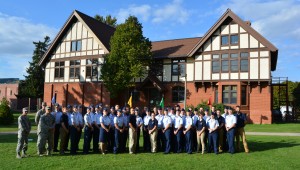 Today the Michigan Tech ROTC building stands as the oldest building on campus, but not many students know that the building was slated for destruction in a mid-1960s master development plan. This article discusses the history of the ROTC building on Michigan Tech's campus, why it was not torn down, and how current Michigan Technological University members feel about the building.
Construction
The building was constructed in 1904 as the College Clubhouse and Gymnasium. This functioned as the student union on campus with a bowling alley, handball court, and pool tables. The building plans were called "plain but commodious" [1]. The Tudor-style building is two stories high and contains an attic and basement. The original running track is still suspended around the gym, but due to safety concerns is no longer used for running. Once Sherman Gym, now called Walker Hall, was completed in 1949, and the Memorial Union Building was completed in 1952, the College Clubhouse and Gymnasium was no longer the primary social and fitness center on campus [2].
Around this time the rest of campus was also drastically changing. Michigan Tech moved its focus from mining education to a broader university education under President J. Robert van Pelt from 1956 to 1964. Halls were being demolished and replaced, namely Wadsworth Residence hall, Fisher Hall, Daniel Heights, and the library [10]. Michigan Tech's master development plan created in the mid-sixties also included the demolition of the ROTC building in order to create a combined Humanities and Biological Sciences building [9].
Under President Raymond L. Smith from 1965-79, construction included the rerouting of Highway 41 to the south of campus, the Mechanical Engineering-Engineering Mechanics building, Chemistry-Metallurgy Building, Electrical Energy Resource Center, the Administration building, Coed Residence Hall now called McNair Hall, Student Development Complex, Gates Tennis Center, and the Forestry Building [10].
Narrowly Avoiding Demolition
It appeared the ROTC building would eventually meet its demise as had all the other old academic buildings. Yet one Michigan Tech student thought differently. In 1978 Doris Davis nominated the ROTC building for the National Register of Historic Places. Because her husband was in ROTC, she spent a lot of time in the building, and she "noticed it had 'a lot of fine features' and felt it was too nice a building to be torn down." [2].
According to the Register nomination form, the building was nominated for three major reasons:
"(1) its importance as the oldest remaining structure on the campus of Michigan Technological University; (2) its service as the center of student life at the university for over forty years; (3) its expression of the work of the Upper Peninsula's most prominent and prolific architectural firm, Charlton and Kuenzli…" [3].
Davis admitted she "didn't expect anything to happen" when she made the nomination, but she did it quietly because she knew Tech's administration would be opposed to it and could have stopped it through the state legislature [2]. Although approval would not prevent Tech from tearing it down, it would "make them consider the alternatives", such as restoration or drastic interior redesign [9].
Michigan Tech's Vice President of Operations at the time Ed Koepel was opposed to adding the building to the register. He felt "the ROTC building could not be redesigned into a useful building, as it stands" for bringing it up to fire code and handicap access cost more than its worth to preserve. Koepel also thought adding the ROTC building to the Register would "cause costly delays in the already lengthy process should Michigan Tech decide to go ahead with the new building" [9]. Despite this, in 1980 the College Clubhouse and Gymnasium was accepted on the Register [3].
From reading through various Board of Control meeting minutes from 1979-1981, there were no official discussions found on the future of the ROTC building. However, one topic was at the forefront of Michigan Tech's administration's mind: the budget. Fortunately, at least for the ROTC building's fate, federal funding at this time was starting to dry up for colleges, and President Dale F. Stein had to "make cuts soon after taking office" [10]. It was most likely the simultaneous addition of the ROTC building to the National Registry of Historic Places, numerous ongoing campus construction projects, and the decrease of federal funds that allowed the ROTC building to be spared.
ROTC at Michigan Tech
Due to the American Revolution and the militiaman traditions, Americans are weary of maintaining a large standing army [11]. One way to decrease the civilian-military divide was to promote military studies at public universities. This started with the Land-Grant Act of 1862, but it was the National Defense Act of 1916 that organized the Reserve Officer Training Corps (ROTC) program [12]. Army ROTC at Michigan Tech started as an Engineer Unit in 1928, and an Air Corps ROTC program was started in 1946 following World War II [13]. In the fall of 1947, the Army and Air Corps ROTC moved into the old gymnasium and clubhouse building where the programs reside to this day [13].
As of February 2015, there are 145 Air Force ROTC detachments, and AFROTC remains the largest and oldest source of commissioned Air Force officers [14]. Army ROTC maintains 273 battalions across the country , and Army ROTC commissions more officers than West Point, Officer Candidate School, and direct commissionings combined [15]. In 2014, Michigan Tech's Detachment 400 was named Team of the Year, meaning it was the number one Air Force detachment in the nation based on the accomplishments of cadets [16]. As of August 2015, Michigan Tech was ranked 7th in the Nation for its high ROTC participation relative to school population [17].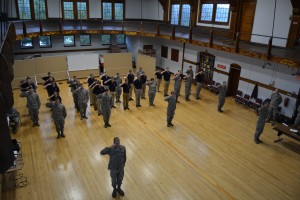 These accolades show that Michigan Tech continues to generate high-quality, engineering-minded officers who are extremely valuable in the 21st century, technology driven military. Michigan Tech, the Army, and the Air Force should keep the battalion and detachment at Michigan Tech open, despite the isolation from other military installations. The next question becomes whether or not the current facilities are adequate for the ROTC programs.
Current Opinions on the ROTC Building
It has been 112 years since the ROTC building was completed, and now it has been updated with computers and lounge spaces for cadets to use. Even so, is the building adequate for current ROTC cadets' needs? Two current ROTC students and a cadre member were asked how they feel about the building.
Nicholas Grygleski, a fifth year Air Force ROTC cadet, uses the ROTC building for Air Force ROTC class and lab, the Air Force cadet lounge for studying and leisure, and the gym for working out. When asked if he felt the building met his needs, he said, "the space is sometimes limiting as far as gym space and space we have to workout…in other ways it meets it perfectly…It's a very nice space, and I think it's utilized well by Air Force ROTC." Regarding demolishing the building to create a new facility, he replied, "No…there's way too much history there, and there's way too much of a legacy…even if that does mean more space, I think it would be far better if we left it at this point" [4].
Dallas St. Arnaud, a fourth year Army ROTC cadet, uses the ROTC building for class and lab and the Army cadet lounge for studying and other ROTC duties. With regards to the facilities, he said, "the computers in the cadet lounge are slow. Other than that, I think it's fine." When asked if he'd support demolishing the current ROTC building, he said, "I'd probably have to look at the designs to support it or not, but possibly" [5].
Captain Mark Holmstrom, the current recruiting officer for Air Force ROTC, was an Army then Air Force cadet from 2007-2012. As a cadet, he also had classes and physical training in the ROTC building, and said "there's been improvements since I was gone and came back." When asked about demolishing the building, he said, "no, I'd rather just keep the original and upgrade the IT, (we've) had issues with the computers and projectors…but other than that I think it meets our needs for training here, and it's nice to have a historical presence and tradition behind it" [6].
ROTC students make up only a small percentage of Michigan Tech's current student body, yet non-ROTC members still have to look at the building everyday and might have different feelings than ROTC members. The following two people have only been in the building a few times and do not use it extensively.
Taylor Hedmark, a second year Management Information Systems and Accounting major, in regards to the buildings on campus said, "everything else is fairly modern…Older style is cool…I'm not saying it's an eyesore, I'm just saying it doesn't fit". He supported demolishing the building if the ROTC program felt they needed a bigger building [7].
Wayne Weaver, a Michigan Tech ECE professor for almost 9 years, understood if ROTC wanted a bigger building but thought the ROTC program could find a different area. He did not support demolishing the building saying, "I like the old building…it doesn't match the other buildings, but who says that all the buildings have to match? I don't think there's a need for that, it's kind of nice to have a little diversity and be able to see the way the old buildings were to give a link back to history" [8].
Due to its age and specified use, non-ROTC members may not feel much attachment to the building, but they at least recognize the uniqueness and history of the building. It appears some ROTC cadets think the building might be too small and needs some upgrades, so perhaps Michigan Tech should look into relocating the ROTC program to a new building. Despite this, Michigan Tech should embrace its historical architecture the way the surrounding city does. The unique and charming atmosphere of downtown Houghton is due in large part to its architecture. Architecture makes history come alive, allowing people to see and touch history for themselves. Hopefully the ROTC building will not be added to any demolition plans again, and Michigan Tech will preserve its oldest connection to the past for many more years to come.
Primary Sources
Year Book of the Michigan College of Mines 1904-1905. (1905). Michigan College of Mines.
French, Steve. " 'Murphy's Pipe Dream' – 1902." Michigan Tech Lode, 09 April 1980.
"College Club House and Gymnasium." National Register of Historic Places Inventory Nomination Form. Retrieved from Michigan Tech Archives.
Grygleski, Nicholas. MTU Air Force ROTC cadet. Personal interview. 17 November 2016.
St. Arnaud, Dallas. MTU Army ROTC cadet. Personal interview. 17 November 2016.
Holmstrom, Mark. MTU Air Force ROTC Recruiting Flight Commander. Personal interview. 17 November 2016.
Hedmark, Taylor. MTU student. Personal interview. 17 November 2016.
Weaver, Wayne. MTU professor. Personal interview. 17 November 2016.
Secondary Sources
French, Steve. "ROTC building eligible for historic recognition." Michigan Tech Lode, 09 April 1980.

"Michigan Tech History." Michigan Tech Strategic Plan.
"Michigan Tech Battalion History." Michigan Tech AROTC: Army Reserve Officer Training Corps.
"Air Force Reserve Officer Training Corps Fact Sheet" (2015). U.S. Air Force.
 Arel, Steve (2012). "Cadet Command Exceeds Commissioning Mission." Army.mil.
Lester, Monica (2014). "Michigan Tech AFROTC Named Tops in the Nation." Michigan Tech News. 26 Feb 2014.
"College Guide Rankings 2015 – National Universities" (2015). Washington Monthly. September 2015.
For Further Reading