Willow Run was an iconic WWII aircraft Production factory, following the end of the war it began a difficult road into a new age in american history. The plant was passed around between several companies, who all used the enormous ground space of the plant to produce many different products. While the future of the plant was destined more for automobiles it never truly left the legacy of aircraft production behind.
As the United States found itself dragged into WWII the government knew they would need to increase production on all of its military front's. At the start of WWII bombers were created at a speed of one a day per hanger, Ford Company had an idea that could create up to a bomber an hour by applying mass production and assembly lines much like what they had done for car manufacturing. The operation for building Willow Run began with the flattening of over five square miles of land on March 28 1941. It would take 19 months and $200 million (paid for by the government) to finish the largest manufacturing facility of the time. Willow Run plant not only included its manufacturing and assembly building, but also separate buildings for administration, flight school, oil storage and, other necessary structures.
The final B-24 bomber was produced at Willow Run plant on June 28, 1945. On October 31, 1945 Ford published a notice that cut its workforce from 1,400 employees down to 100 employees who would finish cataloging remaining parts and finish the records. During this reduction, there was rumor that Ford would repurchase the plant from the government and turn its large production capability towards farm equipment and tractors at low prices for American farmers. However with the end of the war production of food settled back down to normal rates as food was not needed to be sent to our allies an ocean away. When the plant was offered back to the company they declined and ended their ties with the behemoth.
With the victory over both Germany and Japan the United States no longer had a need to keep war time production at its peak. Many factories and jobs would be lost. Since Ford did not purchase Willow Run the United States Government started looking for other buyers who wanted the plant. This search was conducted by War Assets Administration who had the impossible job of getting rid of all surplus production facilities and equipment such as mess kits, weapons ranging from (guns to tanks), and even some warships. It would take the War Assets Administration a little over two years to find someone interested in leasing Willow Run.
Factories fill the space
In 1947 the War Assets Administration procured a five year lease with Kaiser-Frazer Automotive for the use of Willow Run. This would be the first use of the plant since its closing in 1945. The factory would need to under go some modification to start its new production line in the form of automobiles instead of large aircraft. Kaiser-Frazer Automotive was a new company that formed following WWII, the formation was between Joseph Frazer and Henry Kaiser. Henry Kaiser gained his wealth during WWII owning and operating ship building docks that produced Liberty Ships, which were military cargo ships. Kaiser shipyards was ranked 20th in most valued war time production. Joseph Frazer became president of Graham-Paige Corporation during WWII, Frazer was the only one of the two with previous automotive industry work.
During Kaiser-Frazer's start in the automotive world they reached huge sales. Most of the other automobile manufacturing companies were still producing prewar designs while Kaiser-Frazer were pushing new designs out quickly. During their six year production run at Willow Run the company produced near 739,000 automobiles before selling the plant.There designs included automobiles such as convertibles, family cars and sports cars. As other major companies started to recover after the war, they started producing newer models. This competition slowly killed out Kaiser-Frazer's sales, this small company was going against large production companies such as General Motors, Ford, and Chrysler.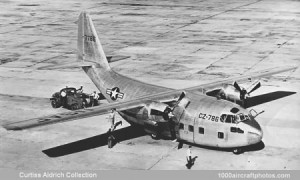 However the plant was not just known for producing automobiles during these six years. Following the War the United States found itself entangled in yet another diplomatic dispute. In 1950 the Korean War started, this caused the United States to need production of military equipment by civilian plants. Under contract with Fairchild Aircraft, Kaiser-Frazer produced military cargo planes at Willow Run. Over 200 cargo planes would be built during this partnership. In order to start in aircraft production of their own Kaiser-Frazer purchased 51 percent of Chase Aircraft Company with plans to produce more airplanes as the automotive section began to go under. With the production of the XC-123 the Air Force was quite impressed with the airplanes that had come out of Willow Run. However after several hearings and debates it was noted that Kaiser-Frazer airplanes cost more than the same model produced by Fairchild without subcontracting. This led to the termination of all the Air Force contracts with Kaiser-Frazer.
In 1951 Joseph Frazer left the company after Kaiser overproduced models causing a surplus that took years to sell off. In 1952 the Frazer name was dropped from the company and production lines. With the collapse of the automobile sales and the failures in the aircraft industry the company would switch from passenger car production to utility car production after purchasing Willys-Overland in 1953. In 1953 Kaiser Automotive would cut its ties with the Willow Run plant and move production to Ohio.
General Motors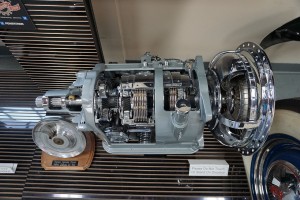 As Kaiser Automotive transferred its production to Ohio, General Motors had a bit of bad luck. In 1953 General Motors Detroit transmission factory burned down and cause a temporary loss of production. Right after the fire, General Motors leased Willow Run in an attempt to salvage transmission production. Within nine week, Willow Run started to produce transmissions using salvaged machinery and equipment from the Detroit plant. General Motors started production at Willow Run producing Hydramatic Transmissions and in just three years this type of transmission would be updated to a newer design. The Hydramatic was one of the world's first fully automatic transmissions,used in many cars including Hudson, Lincoln, Rolls Royce, and Bentley. Willow Run was eventually bought by General Motors who would plan on using its large production capabilities to its maximum. Throughout its owning Willow Run, General Motors would expand the plants total footprint to over five million square feet and added a new section for an engineering center. This expansion made room for many add-ons such as an assembly area that produced cars as late as 1992. General Motors also added room for its divisional section, Fisher Bodies, to create automobile bodies at the plant. During this expansion Fisher Body produced the car bodies for both the Chevrolet Corvair and Nova. Fisher Bodies would eventually grow to produce bodies not just for General Motors but for all of its sub sections as well such as Pontiac and Buick.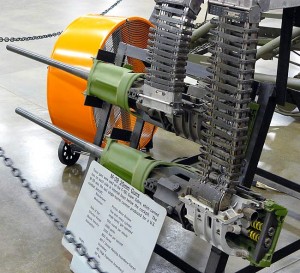 In 1955, just two years after the Korean War, the United States found itself in combat in Vietnam. Most of Vietnam was a heavily forested which made the movement of troops difficult. In this aspect the United States created chemicals to be dropped by planes, this caused an increase in air combat between both sides. General Motors helped both the land forces and the air forces by converting a section of Willow Run plant into a war manufacturing zone. Throughout the twenty year war General Motors produced the M16A1 rifle for the army to use with its ground troops as well as the M39A1 20mm auto cannons to be used with United States Air Force fighter jets. The M39A2 20mm cannon is still used on fighter jets to this day. In this production run the United States Government sub-contracted the work to General Motors much as it had with Kaiser-Frazer. Since General Motors owned the factory at this time, the government could not operate the plant as they had in WWII. With automation and automatic assembly lines the need for Willow Run began to fall off, and when General Motors filed for bankruptcy in 2009 Willow Run was transferred to a RACER (Revitalizing Auto Communities Environmental Response) Trust. RACER had the job of cleaning up and selling off General Motors assets, including Willow Run, in order to settle the bankruptcy case. In 2010 the majority of the plant was demolished leaving only its footprint.
Research and Museum
Following the end of WWII a group of hangers on the Willow Run site were sold to the University of Michigan for research purposes. The University operated the hangers from 1946 untill 1972. During this operation the lab dealt mainly with lasers in the form of missile guidance and anti-missile systems. While research was also put into throttle able rocket engines and remote sensing. In 1972 the Michigan Aeronautical Research Center dissolved and became Environmental Research Institute of Michigan and moved from Willow Run to Ann Arbor.
As production slowed in 1993 at Willow Run a group of investors wished to use part of the plant to produce buses. This group of investors was unable to work with General Motors to secure usage of part of the plant's production floor to create the buses. Neither group could work out a successful deal, and as such the bus production was moved to Ann Arbor.
Another group, Ann Arbor Spark, received at $200,000 grant from the United States Government in order to complete research and production on Connected Vehicles Technology at Willow Run in 2014. The group worked with RACER Trust to gain usage of Willow Run for testing and research facilities. With Willow Run to soon be operated by Ann Arbor Spark the plant will once again be in use for manufacturing.
Yankee Air Museum purchased a section of the remaining facility in order to preserve the Willow Run plant and to show the production process of the once great B-24 Liberator Bombers. They raised over $4 million in order to purchase the remaining section to create the museum. They are currently fundraising in order to purchase equipment used during the period during which the B-24 Bomber was built there. They are collecting WWII planes for exhibits and flights in order to attract visitors.
Summary
Willow Run started its life in one of the most prosperous times in the United States, it survived many years of manufacturing and several owners. The facility produced everything from cars to planes and guns, and will soon showcase the Arsenal of Democracy. This museum will be a dedication to the manufacturing power of the United States.
Primary Sources
Secondary Sources
Bryan, Ford R. Beyond The Model T. Detroit MI: Wayne State University Press, 1997.
Kidder, Warren B. Willow Run Colossus of American Industry44. Lansing MI: KFT, 1995.
Corporate Author Save The Willow Run Bomber Plant. N.p., 2015.
Walsh, John. "Willow Run Laboratories: Separating from the University of Michigan". Science 177.4049 (1972): 594–596.
Bomey, Nathan. "Former GM Willow Run plant may be demolished." Detroit Free Press. N.p., 23 Apr. 2013.
Further Reading