by Mike Fleck.
Gunnar Birkerts (1925-2017) had an international practice and a reputation for dramatic expressionist buildings. His only work in the Upper Peninsula, the Rozsa Center for the Performing Arts, is typically sculptural and striking.
Biography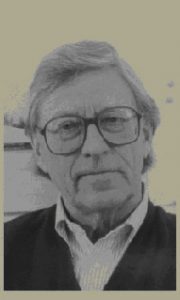 Birkerts was born in Riga, Latvia, on January 17, 1925. He attended Technische Hochschule in Stuttgart, Germany, where he obtained a degree in architecture and engineering in 1949,1 and in 1950-1951 Birkerts worked at Perkins and Will, an architectural firm in Chicago. From 1951-1954, he worked for Eero Saarinen and Associates in Bloomfield Hills, MI, until he was taken on as lead designer by Minoru Yamasaki and Associates in Birmingham, MI, from 1955-1959.
In 1959 Birkerts started his own firm along with Franc Straub in Birmingham, MI. Birkerts and Straub became Gunnar Birkerts and Associates in 1962.2 Around the same time as starting his own firm, Birkerts became a professor of architecture at the University of Michigan. He held this position from 1959 until 1990.
Birkerts' past projects include Museum of Glass in Corning, New York; the Federal Reserve Bank of Minneapolis, Minnesota; the University of Michigan Law School Addition in Ann Arbor, MI; the Kemper Museum of Contemporary Art and Design in Kansas City, Missouri; the U.S. Embassy in Caracas, Venezuela; the University of Iowa College of Law in Iowa City; the Air Touchcellular Tower in Ann Arbor, MI; and the Church of the Servant in Kentwood, MI. His current projects include a chapel for the Adrian Dominican Sisters in Adrian, MI; the Museum of Occupation in Riga, Latvia; and an addition to Lincoln Elementary School in Columbus, Indiana.3
Birkerts' awards include the Gold Medal, American Institute of Architects, Detroit Chapter (1975); Architect in Residence, American Academy in Rome (1976); Gold Medal, Michigan Society of Architects (1980); The Great Medal, Latvian Academy of Sciences (2000); and many others. Birkerts has also received 58 awards for individual projects.4
Buildings
Notes
Archpedia. Gunnar Birkerts. [link needed]