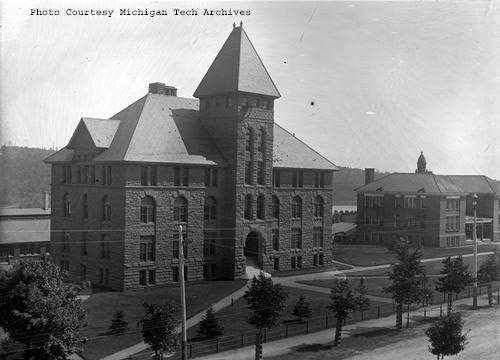 by Ryan Rosinski
Architect: John Scott & Co.
Location: Michigan Tech Campus, Houghton
Built: 1889
Contractors: Wahlman & Gipp and I. E. Swift Company
Demolished: 1968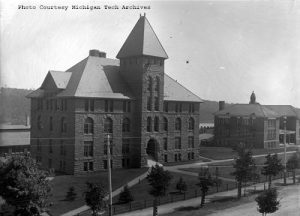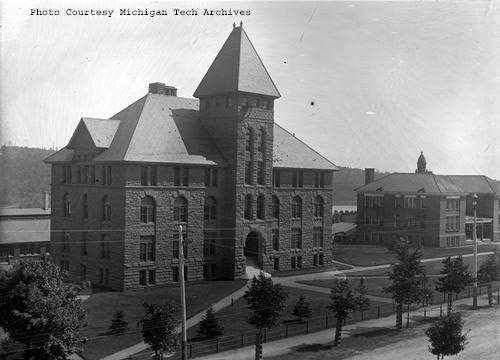 Built in 1889, this Romanesque building was the first structure constructed for the Michigan Mining School. Positioned on a slope above Portage Lake, it was built in East Houghton, just a mile from the downtown area.1
The Michigan Mining School was founded in 1885, and initially conducted instruction in the Continental Fire Hall located in downtown Houghton.2 To solve the space issue, basic plans were developed and sent to the state capital in Lansing for approval. These plans included a three-story, 152' x 122' building, containing several specialty rooms, lecture halls, and a library. The second floor would contain a gymnasium.
After receiving the approval from Lansing, Scott was hired. On September 9, 1887, the school adopted his plans. Out of the construction companies that bid on the project, the Wahlman & Gipp group and I. E. Swift Company were selected. The contract at this time was quoted for $63,500. By spring they began working on the exterior.
The exterior was completed before the winter of 1888, and the contractors moved to the inside to continue work on the interior. Funds were nearly exhausted as the building approached completion, but late in 1888 the project received $60,000 to supply water and furnish the labs and classrooms with the appropriate equipment. The building was occupied in 1890.3
Hubbell Hall was originally known as State Hall, or simply the first school building, but after the death of the building's primary benefactor, Jay A. Hubbell, it assumed its final name.4 As the Michigan Mining School expanded and more buildings were constructed, Hubbell Hall became devoted to the math and physics departments. A new ventilation system was added in 1913.5 In 1968 the physics and math departments moved to Fisher Hall and Hubbell Hall was demolished. An 11-story Mechanical Engineering building was constructed in its place.
Hubbell Hall was dominated by a hip roof and randomly coursed Jacobsville sandstone walls. Symmetrical in design, the building had a tall tower in the center where the main entrance was recessed under a large arched opening. The windows were grouped vertically, and the second-floor windows were round-arched. The trim consisted of Marquette brownstone while the roof consisted of a light green copper material. Seven bays wide, the exterior dimensions were 109' x 53', with a wing that was 37' x 25'.
The basement was primarily used for mechanical functions such as boiler room and machine shop. The first floor contained a model room, carpenter shop, office, library, museum, and metallurgical shop. A gymnasium was located on the second floor, while the third floor contained the main lecture halls. The floors of the first through third stories were made of hardwood, and other features were accentuated with brick and other wood.6
Buildings by John Scott & Co. in the Copper Country
Notes
Physics Alumni – History – Exhibits, 12 July 2006, Michigan Technological University Physics Department, 12 July 2006.
Halkola, Michigan Tech Centennial, 34.
Daily Mining Gazette, 3 November 1913.