by Landon Helmuth.
Eero Saarinen (1910-1961) studied sculpture before architecture, and his buildings maintained a sculptural feel as he moved between expressionist architecture and the International Style.1 His only building in the Copper Country was Nikander Hall on the campus of Suomi College (Finlandia University).
Biography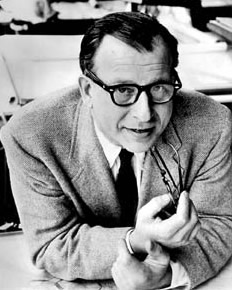 Eero Saarinen was born August 20, 1910, in Kirkkonummi, Finland, to Eliel and Loja Gesellius Saarinen. In 1923 the Saarinens moved to the United States after Eliel, a prominent architect, received second place in the Chicago Tribune Competition. In 1925 the Saarinens moved to Cranbrook, Michigan.2 In 1929-1930, Eero Saarinen studied sculpture at the Académie de la Grande Chaumière in Paris. Saarinen then studied architecture at Yale University in New Haven, Connecticut, graduating in 1934. In1934-1935, he traveled Europe on a scholarship. Upon returning, Saarinen taught at Cranbrook Academy of Art.3 He joined his father's firm in 1936, where he continued to work after father's death in 1950. Saarinen was also well known for the design of furniture for his buildings. In 1954 he married Aline Bernstein, an art critic at The New York Times, with whom he had a son, Eames.4 He died September 1, 1961, in Ann Arbor, Michigan, after brain surgery.
Saarinen's works included those of the Berkshire Music Shed at Tanglewood, Massachusetts (1940); Dulles Airport in Chantilly, Virginia (1958-1962); Gateway Arch in St. Louis, Missouri, 1947 competition, constructed 1961-1966; General Motors Technical Center in Warren, Michigan (1946-1955); IBM Research Building in Yorktown, New York (1957-1961); John Deere and Company in Moline, Illinois (1963); Kresge Auditorium in Cambridge Massachusetts (1950-1955); Kresge Chapel in Cambridge, Massachusetts (1955); North Christian Church in Columbus, Indiana (1959-1963); TWA terminal in New York (1956-1962); and Yale Hockey Rink in New Haven, Connecticut (1956-1958).
Buildings
Notes