by A. K. Hoagland.
Donald M. Scott seems to have been a civil engineer who briefly worked as an architect.
Biography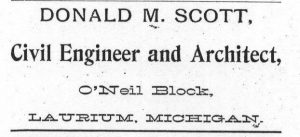 Donald M. Scott (1862-?) was born in Scotland and immigrated to the Copper Country as an adult. He advertised in the 1901-02 Polk's Directory as a "civil engineer and architect" and lived in Laurium with his wife and three children. The Scotts seem to have left the area by 1905, but they returned by 1910 when Donald worked as a civil engineer for the village of Laurium. Within six years he had left the area again.1
Buildings
Notes
1900 and 1910 manuscript censuses.  Polk Directories. Jane C. Busch, "Laurium Historic District," National Register of Historic Places Registration Form, 2004. Scott's ad appears on p. 347 of the 1901-02 Polk.