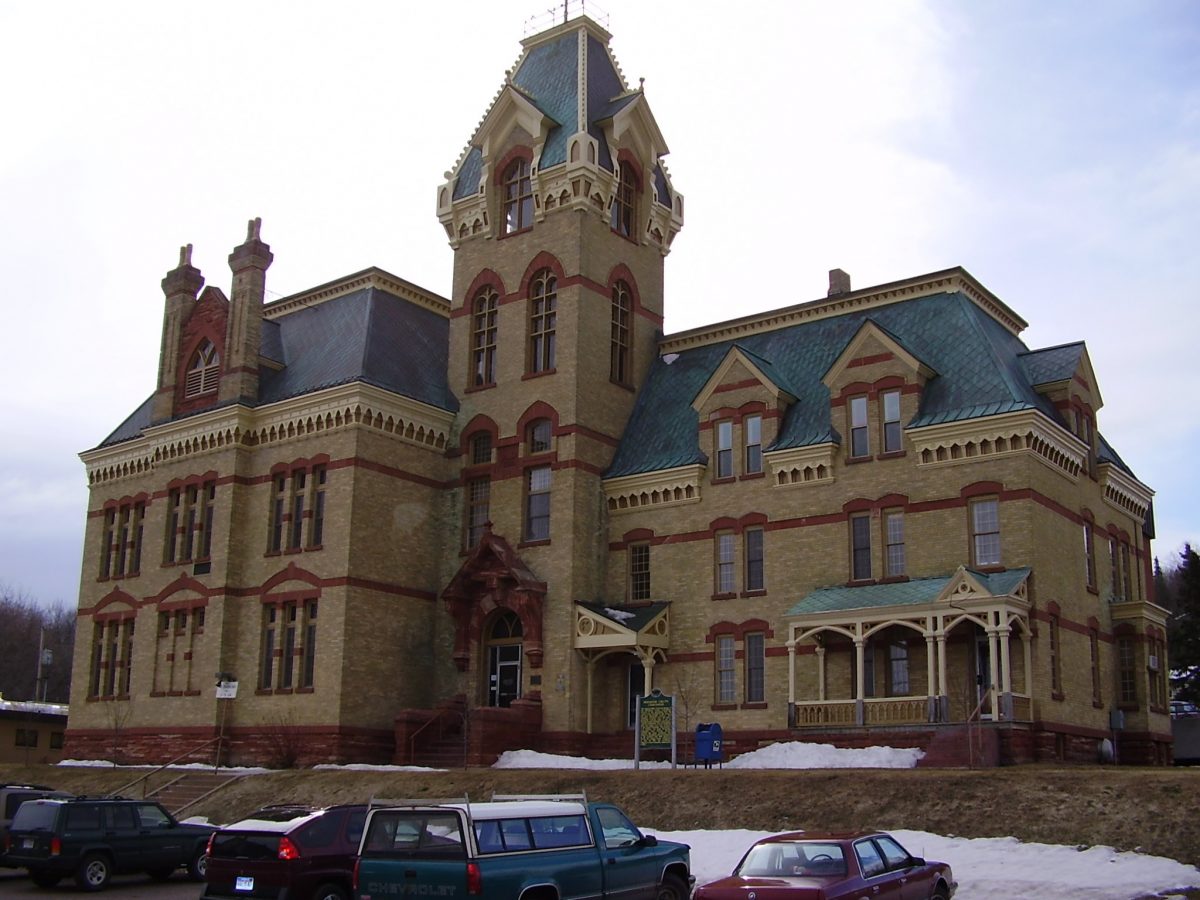 by Bradley Plummer
Architect: John B. Sweatt
Location: 401 E. Houghton Ave., Houghton
Built: 1886-1887
As one of the more distinctive courthouses built in late 19th-century Michigan, the Houghton County Courthouse reflects the prosperity brought to the area at the time due to the copper boom. The polychromatic, 2 ½-story building was influenced by the Second Empire, Ruskinian Gothic, and Italianate styles.1 The courthouse was built at a cost of $75,568 and contained the jail and sheriff's quarters.
On the exterior, the walls are constructed of cream-colored Milwaukee brick trimmed with local red sandstone. The curbed mansard roofs were clad with Keweenaw copper. There is a striking central four-story tower which serves as the visual center point of the L-plan structure. Windows are arranged singly or in groups of twos or threes under red sandstone lintels, connected by two red sandstone bands which encircle the building at both the first and second stories. The interior is decorated with rich wood, stone fireplaces, and ornamental plaster. The floor consists of red, brown, and light yellowish brown tiles. A carved oak staircase joins the floors.2
The cornerstone of the courthouse was laid on July 24, 1886, and the building was dedicated on July 28, 1887.3 By 1961 the building had deteriorated to the point where the jail was declared hazardous and was condemned. A new jail was constructed in 1963, adjacent to the Courthouse, at a cost of $200,000.
Buildings by John B. Sweatt in the Copper Country
Notes
" Houghton County Courthouse," National Register of Historic Places Nomination, (U. S. Department of Interior, National Park Service, 1975).
" Houghton County Courthouse," Nomination.
" Houghton County Courthouse," Nomination.