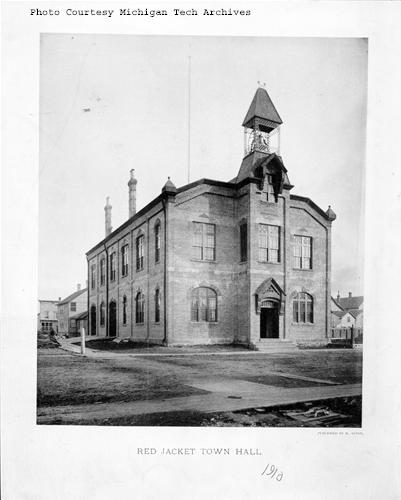 by Bradley Plummer
Architect: John B. Sweatt
Alternative Name: Calumet Opera House and Village Hall
Location: 340 6th Street, Calumet
Built: 1885-1886
Contractor: Jesse Butler
Altered: 1900, Charles K. Shand, architect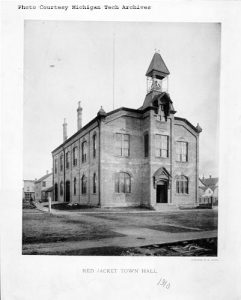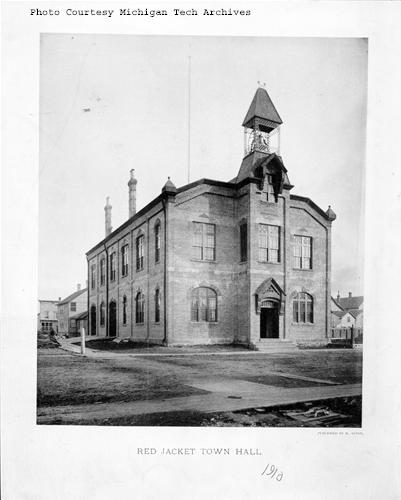 The Red Jacket Village Hall was originally designed in 1885 by Sweatt and built for $14,272 in 1886. The land was leased to the village by the Calumet & Hecla Mining Company. The two-story, brick and brown Marquette sandstone structure was located on the southeast corner of 6th and Elm streets. It had a projecting tower with an open belfry on the center of its 6th St. front. The first floor contained the village clerk's office, council chambers, fire hall, and jail. The second floor housed a public hall.1
Around 1900, major alterations and an addition were constructed to create the Calumet Theater that exists today. The original exterior was modified to accord with that of the large opera house addition on the south. These modifications were done by Charles K. Shand.2 The fire department moved to a new fire hall across the street, also designed by Shand.

Buildings by John B. Sweatt in the Copper Country
Notes
Eckert, Sandstone Architecture, 164. "Calumet Village Hall and Theater," National Register of Historic Places Nomination, (U. S. Department of Interior, National Park Service, 1971).