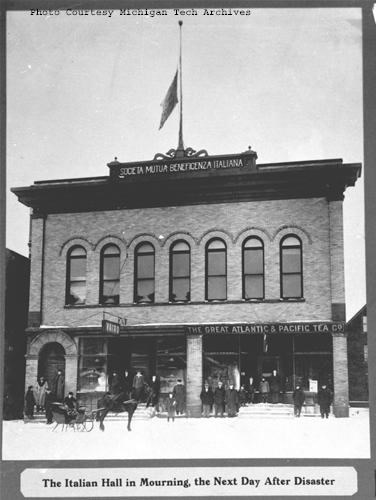 by Jason Cope
Architect: Paul H. Macneil
Location: 7th St., Calumet
Built: 1908, demolished 1984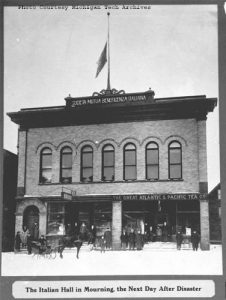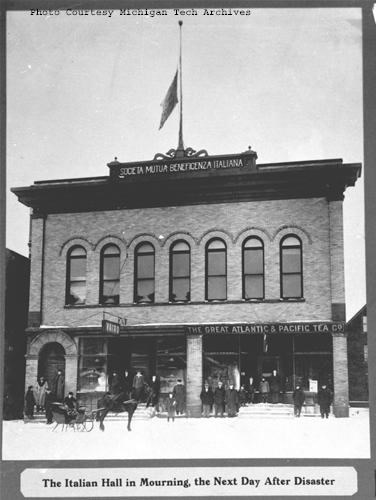 The Italian Hall was a two-story building constructed for the Italian Benevolent Society. The first floor had two businesses: Vairo's saloon and the Great Atlantic & Pacific Tea Co. The second floor had a large meeting hall.
The Italian Renaissance Revival-style brick building was distinguished by a row of round-arched windows across the façade. The prominent cornice bore the name of the society that owned the building. The first floor had two store fronts and, on the far left, a sandstone arched entrance leading to the stairway to the second floor.
In 1913, a tragedy occurred at the Italian Hall. During the strike, the union miners and their families were having a Christmas party at the hall when someone yelled, "fire." In the rush to get out of the building, there was a pile-up in the stairway. Seventy-three people, most of them children, died in this bottleneck. There was no fire, and unionists claimed that the panic had been caused deliberately by company supporters, but nothing was proved. This tragedy was the single greatest loss of life in the Copper Country and gained nationwide fame as an incident emblematic of labor strife in the early 20thcentury. Despite this history, the building deteriorated and was demolished in 1984. The doorway behind which so many died was saved, though, and re-erected in a park on the site of the building as a memorial to those who lost their lives.1
Buildings by Paul H. Macneil in the Copper Country
Notes
Hunts' Guide to Michigan's UPPER PENINSULA, 26 February 1997, Hunts-upguide, 15 April 2006.