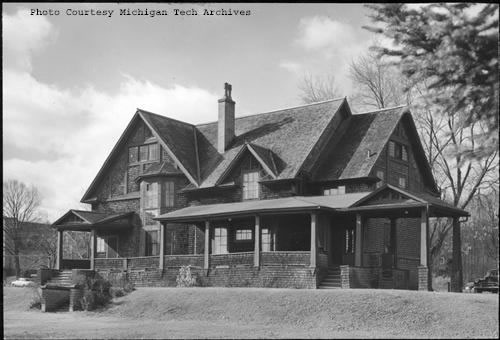 by Jason Cope
Architect: Paul H. Macneil
Alternative Name: Michigan Technological University, Sigma Rho Fraternity House
Location: US 41, east side, Chassell
Built: 1908; destroyed by fire 1974
Contractor: Edward Ulseth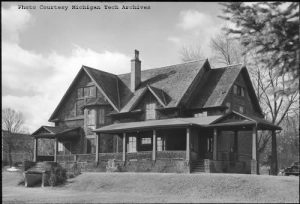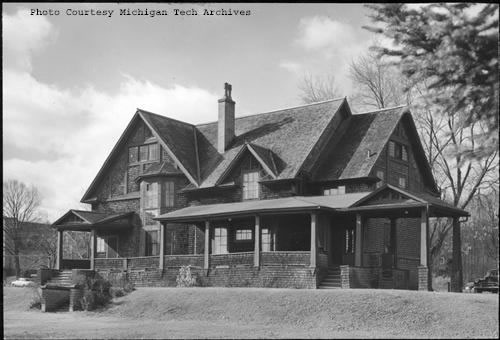 The village of Chassell formed around the mill of the Sturgeon River Lumber Company beginning in 1887. In 1902 Charles Henry Worcester of Chicago bought the company for $65,000 and organized the Worcester Lumber Company the next year. At Chassell, Worcester employed 120 men at the mill, 30 on its dedicated railroad, and another 300-400 in four camps.1 The company thrived and so did Worcester, who acquired the C. V. McMillan Company in Ontonagon in 1908 and formed the Greenwood Lumber Company.2
In 1908, president C. H. Worcester announced that he would make Chassell his summer home and commissioned Paul Macneil to design a house. Macneil designed a two-story wood-frame house that measured 35' x 60', calling it a "typical old English country house." The 20' x 35' living room was the featured space, with a large fireplace flanked by "two large high-backed old-fashioned seats, of the Mission-style, built into the wall." All of the rooms had beamed ceilings and were decorated in the Mission style. Besides the large living room, the house had a smaller living room, two reception halls, a dining room, kitchen, and pantries, with three large bedrooms on the second floor. The house was wired for electricity and furnished with steam heat. The newspaper mentioned plans for a columned pergola measuring 40' x 14', although it is not certain if this was ever built.3 Photographs show a wide porch across the front and a porte cochere.
The Worcester Lumber Company went out of business in 1928, although Worcester and his wife, the former Mary Southwell, continued to return to his house in Chassell every summer until shortly before his death in 1956.4 In 1957 the Sigma Rho fraternity of Michigan Tech acquired the building and occupied it until a spectacular fire destroyed it in 1974. The fraternity built a new house on the site.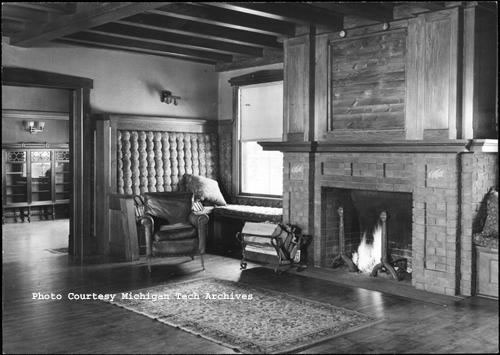 Buildings by Paul H. Macneil in the Copper Country
Notes
Nicki Lassila, "History of Chassell," Chassell, Michigan:100 Years of Pride (privately printed, 1988).
"Chassell Man Is Head of Big New Lumber Company," Calumet News, 3 August 1908.
"An Old English Country House," Calumet News, 4 September 1908.
"Charles Worcester Dies Friday in Chicago Hospital," Daily Mining Gazette, 24 March 1956.