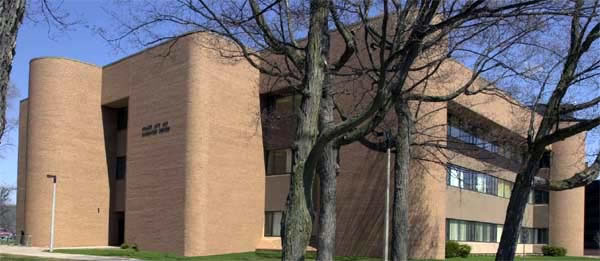 by Sarah Nunn
Architect: Dow, Howell, Gilmore & Associates
Alternative Name: Michigan Technological University, Walker Arts and Humanities Center
Location: MTU Campus, Houghton
Built: 1949, Remodeled 1985
Contractor: Herman Gundlach, Inc.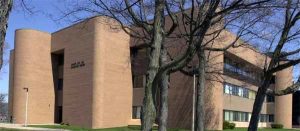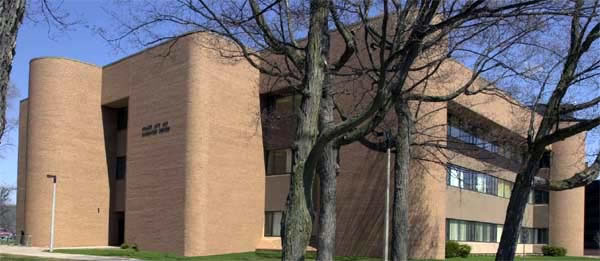 Sherman Gym (1949) was the Michigan Tech sports center, complete with racquetball courts, a wood gym, and a swimming pool.1 Concrete structural columns supported the first-floor ceiling with steel framing the rest of the structure completely. Banded windows, a flat roof, and rectangular shape also were part of the design. There was no ornament, just the exposed white masonry walls.
In 1980, the Student Development Complex was opened, leaving Sherman Gym vacant. With a generous donation of $1.5 million from Carl Walker, the drive to raise funds for renovation was underway.2
Alden B. Dow and later Dow, Howell, Gilmore, & Associates believed in incorporating each of their buildings into nature.3 Therefore, they were forced to incorporate the existing building structure, design for adverse weather conditions, and a love for nature into one building. This compromise resulted in the current building. The original north and south facing walls from Sherman Gym were left almost untouched. The east and west walls were completely reconstructed. However, knowing that there was a second phase anticipated for construction, the east wall was left with little or no detail in order to better accommodate an addition.4
In order to better blend a rectangular building into nature, DHGA added rounded elements to each of the building's corners. Additionally, to remove the boxy appearance of the building, a vertical protrusion was added to serve as the entrance to the newly named Walker Building. Lastly, a staircase was added to the front of the building which added a rounded protrusion on the west, or campus side of the building. Aside from these rounded and vertical protrusions, the Walker Building maintained the same footprint as the existing Sherman Gym. The entire structure was faced with a reddish-brown brick comparable to the rest of the buildings on Michigan Tech's campus.
DHGA had created an architectural estimate for the Walker Building renovation of $3,824,500. However, when bids came in for this project, the lowest was $5,106,849. Therefore, initial demolition and reconstruction was delayed. Funds were eventually raised and the building was dedicated on August 2, 1985.5
Buildings by Dow, Howell, Gilmore & Associates in the Copper Country
Notes
Walker Humanities Center. 18 November 2002. Michigan Technological University. 5 July 2006.
"Building-Walker Arts and Humanities Center" –Vertical File at MTU Archives.
Alden B. Dow, Reflections (Northwood Institute: 1970).
Michigan Tech Archives, Acc No. 038, Box 5, Folder 16, Picture dated November 6, 1984.
"Building-Walker Arts and Humanities Center" –Vertical File at MTU Archives.