by Jeremy Rickli.
Even though Henry Leopold Ottenheimer (1868-1919) lived in the Copper Country only briefly, he designed some of the most significant buildings in Houghton. Based in Chicago, he established a Houghton office for about a year. Many of his buildings were used for apartments, hotels, and banks, but he also designed personal homes for some of the most influential people during the copper-mining glory days. He changed the face of downtown Houghton, designing three large buildings within a block of each other.
Biography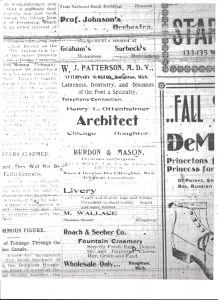 Henry Leopold Ottenheimer was born and raised in Chicago, Illinois. Ottenheimer had a younger brother, Moses Ottenheimer, who eventually became a member of the L. Ottenheimer Sons firm, which dealt with investment securities.
Henry Ottenheimer began his education in the public schools in Chicago and went on to train to be an architect in the famous architectural firm of Adler & Sullivan.1 Ottenheimer began practicing architecture in Chicago in 1881 but soon traveled to Paris to continue his studies.
As soon as he arrived back in Chicago Ottenheimer went about building up his own architectural firm. He collaborated with Henry J. Shlacks from 1892 to 1896. Shlacks had also worked with Adler & Sullivan, most likely at the same time as Ottenheimer. Later Ottenheimer headed his own architectural firm that went by the name of Ottenheimer, Stern & Reichert.2 His practice must have been well known for he was able to convince a young Rudolph Schindler to leave his practice in Vienna to come to Chicago. Later Schindler would work under Frank Lloyd Wright, then establish his own well-known firm.3
Little is known of Ottenheimer's personal life. He was married in 1916 to his wife, Mary, and they lived at 1107 Pratt Boulevard in Chicago. This is mentioned in the Chicago Blue Book so evidently the marriage was socially acceptable. Ottenheimer was Jewish and was active in Jewish society in Chicago. He belonged to the Standard Club for Jewish men, and his brother, Moses, was a director of the Jewish Peoples' Institute. Ottenheimer designed the gymnasium and natatorium for the institute. Ottenheimer was also a member of the Lake Shore Country, Buena Shores, and Chicago Elks clubs.4
Ottenheimer's influence in the Upper Peninsula, mainly the Houghton area, was extensive. He opened an office in Houghton in 1899, according to advertisements from the Daily Mining Gazette, but was not here long enough to appear in the city directory. In the roughly one year that he was here, he designed the Shelden-Dee block, Douglass House Hotel, and the Rees House on College Avenue. He did not stop designing buildings in the Houghton area once he returned to Chicago, however. Ottenheimer died on May 11, 1919, from a case of pneumonia, and is buried in the Rosehill cemetery in Chicago.5
Buildings
Notes
Donald M. Aucutt, "Ottenheimer in the U.P.," Prairie 1, no. 4 (July-September 2003): 9. Rochelle Berger Elstein, "The Jews of Houghton-Hancock and Their Synagogue," Michigan Jewish History 38 (November 1998): 2-10.
Society of Architectural Historians. 3/19/2006. "American Architect Biographies, Ottenheimer, Henry L."
Aucutt, 9.
Aucutt, 10-11.
Aucutt, 11. Henry L. Ottenheimer obituary, New York Times, 11 May 1919.