by David Daavettila.
Alexander Chadbourne Eschweiler (1865-1940), a major figure in Milwaukee architecture, grew up the Copper Country and through family ties became the architect for the Copper Range Company, among other commissions here.
Biography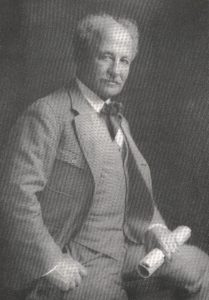 Eschweiler was born in Boston in 1865 to Carl Ferdinand Eschweiler and Hannah Lincoln Chadbourne. His father attended the University of Bonn, in Germany, and became a mining engineer. He moved to the United States in 1852. His mother was born in Maine with ancestry that went back to 1635 in the New England area.1
When Eschweiler was still a young child the family moved to the Copper Country. Most of the schooling that he received in the sciences and arts was from his parents. The family then permanently moved to Milwaukee, where Alexander attended Marquette College for a year before going to Cornell to study architecture. He graduated from Cornell in 1890 and moved back to Milwaukee. He worked in various offices until 1892 when he went into business for himself.
Eschweiler and his wife, Marie, had three sons and three daughters. All three sons followed in their father's footsteps and went first to Marquette and then on to Cornell for their education in architecture.2 Eschweiler ran the company alone until 1923 when he formed a partnership with his three sons. They named the firm Eschweiler & Eschweiler and bought property at 720 East Mason Street in Milwaukee to be used as offices and drafting rooms. Eschweiler & Eschweiler became a prominent Milwaukee firm that designed schools, churches, commercial buildings, residences, and industrial buildings in the Milwaukee area.
Earlier in his career, Eschweiler did a fair amount of work in the Copper Country due to Eschweiler's family connections. His cousin married Frederick C. Denton, general manager of the Copper Range Consolidated Company. Denton hired Eschweiler to design buildings in Painesdale (houses, school, library, I.O.O.F. Hall), Trimountain (Superintendent's House), Baltic (office building), and Atlantic Mine (Denton's own house and Forrester Hall). Eschweiler also designed houses for Houghton's elites, as well as their clubhouse, the Houghton Club.
Eschweiler was named a Fellow of the American Institute of Architects in 1918. He died at home on June 12, 1940.3
For further information on his activities in Milwaukee, see his page at Urban Milwaukee Blog.
There was also a 2007 exhibition at the Charles Allis Art Museum in Milwaukee on "Alexander Eschweiler in Milwaukee: celebrating a rich architectural heritage," curated by Winifred Thrall.  A catalogue by that title was produced and may still be available from the museum.
Buildings
Notes
Richard S. Davis, Eschweiler and Eschweiler: 50 Years of Architecture (Milwaukee: Hammersmith-Kortmeyer Co., 1943), unpaginated.
Davis, Eschweiler and Eschweiler. "Obituary: Alexander Chadbourne Eschweiler," New York Times, 13 June 1940: 23
Davis, Eschweiler and Eschweiler.