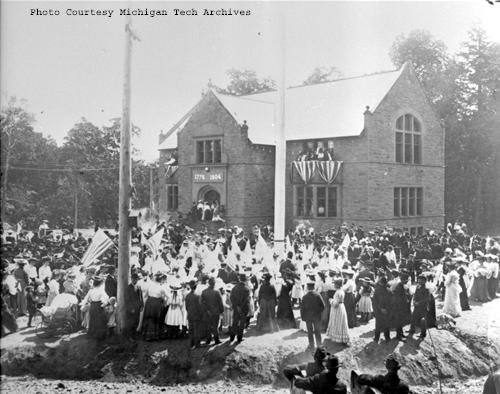 by David Daavettila
Architect: Alexander Chadbourne Eschweiler
Location: Goodell Street, next to High School, Painesdale
Built: 1902-1903
Contractor: Prendergast & Clarkson1
Demolished: 1965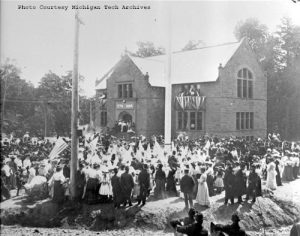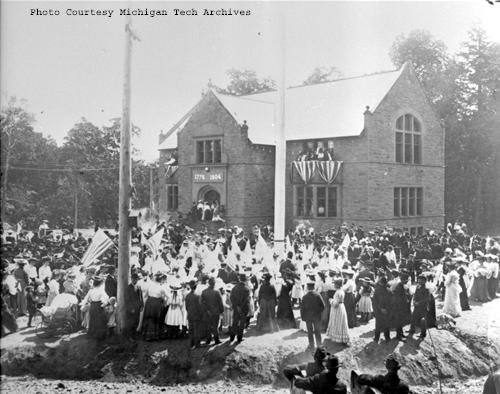 The Sarah Sargent Paine Memorial Library, dedicated to the mother of William Paine, the president of Copper Range Consolidated Company, was many things for the community, accommodating meetings, classes, theater shows and church services. The 86' x 37'-6" building was constructed in 1902-1903 and served the Painesdale community until it was condemned in 1962 due to an unstable foundation. The basement had a kitchen, dining room, club rooms, and public baths. Bookshelves on the main floor contained many volumes in the immigrant miners' native languages. The main floor also had a children's room with curved windows, window seats, children's books and a large fireplace, as well as smoking and card rooms and an adult reading room with a large oil painting of Mrs. Paine over the fireplace. The second floor had an auditorium used for community functions. The building was demolished in 1965.2
The Jacobean Revival building had a prominent cross gable with a Tudor-arched entrance.3 Above the entrance were three windows topped with an elaborate hoodmold. Flanking the center bay, each of the side bays had a bay window with a balcony. The entrance was framed by smooth stone which contrasted with the rough-cut Jacobsville sandstone of the rest of the building. A smooth beltcourse ran around the building, dividing the first and second floors.
Buildings by Eschweiler in the Copper Country
Notes
"Sarah Sargent Paine Memorial Library Day," Daily Mining Gazette, 14 November 1903.
Clarence J. Monette, Painesdale, Michigan Old and New (privately printed, 1983), 30-34.
"Painesdale Historic District Houghton County Michigan." National Register of Historic Places Nomination, (U.S. Department of the Interior, National Park Service, 1993).