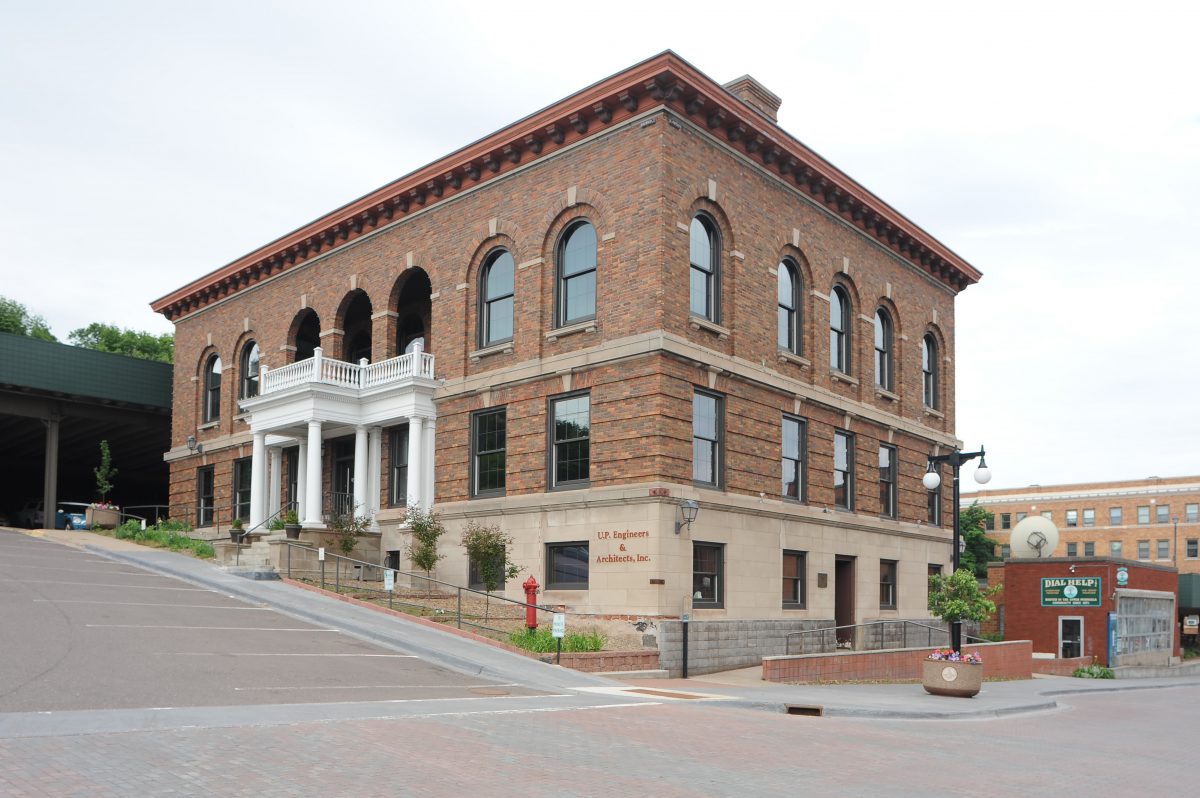 by David Daavettila
Architect: Alexander Chadbourne Eschweiler
Alternative Name: U.P. Engineers and Architects Corporate Headquarters
Location: 100 Portage Street, Houghton
Built: 1910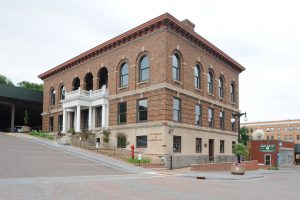 Eschweiler produced drawings for the Houghton Club, formed by businessmen in the Houghton area, in 1906. As originally designed, it had a third story which accommodated a ballroom.1 Apparently the Club had difficulty raising the funds for this, because construction was not begun until 1910, and the building was reduced in size to two stories and a basement. Even so, it cost $55,000 to build.
The Houghton Club was built in the Classical Revival Style, and the exterior is symmetrical with seven bays across the front. The facade has three distinct horizontal divisions between the three floors of the building. The basement, which is fully exposed on the northern side of the building due to the slope of the land, is of a rusticated stone that differentiates it from the brick second and third floors. Above this is the first or main floor with rectangular windows that have three horizontal panes. Above the windows there are splayed lintels with light-colored keystones that stand out against the darker brick. Above these windows is a contrasting stone beltcourse that divides the main and top floors. The second-floor windows are all arched; the two on each end are grouped together and the three in the middle are set back inside an arcaded porch. The roof is flat with a modillioned cornice.
The main floor of the club had a parlor, "grille room," and billiard room, while the second floor had private dining rooms, bedrooms, card rooms, and library. The basement had the kitchen and servants' area, as well as a gymnasium and locker room. When the building opened on December 15, 1910, the Daily Mining Gazette reported,
The new Houghton Club is another monument to that enthusiastic pride of the community which the citizens of Houghton have always exemplified and which has been such a factor in making Houghton known from one end of the nation to the other as the biggest little town in the country. The new Houghton Club is complete in all its appointments, is arranged with proper regard for all club conveniences and in furniture, detailed equipment and finish, it is the embodiment of good taste.
The Houghton Club occupied the building until 1933 when it was bought by the village of Houghton for municipal offices for only $1,835.2  The city renovated the inside, moving rooms around and adding new windows on the back of the building. In 1991 U.P. Engineers and Architects, Inc., bought the building and renovated the interior to closely match the original interior of the building.3
Buildings by Eschweiler in the Copper Country
Notes
Drawing 01/849, Wisconsin Architectural Archives, Milwaukee.
Chad Hewitt, "Houghton Clubhouse," Term Paper (1997), Box 3, Folder 32, MTU Archives.
Hewitt, "Houghton Clubhouse."