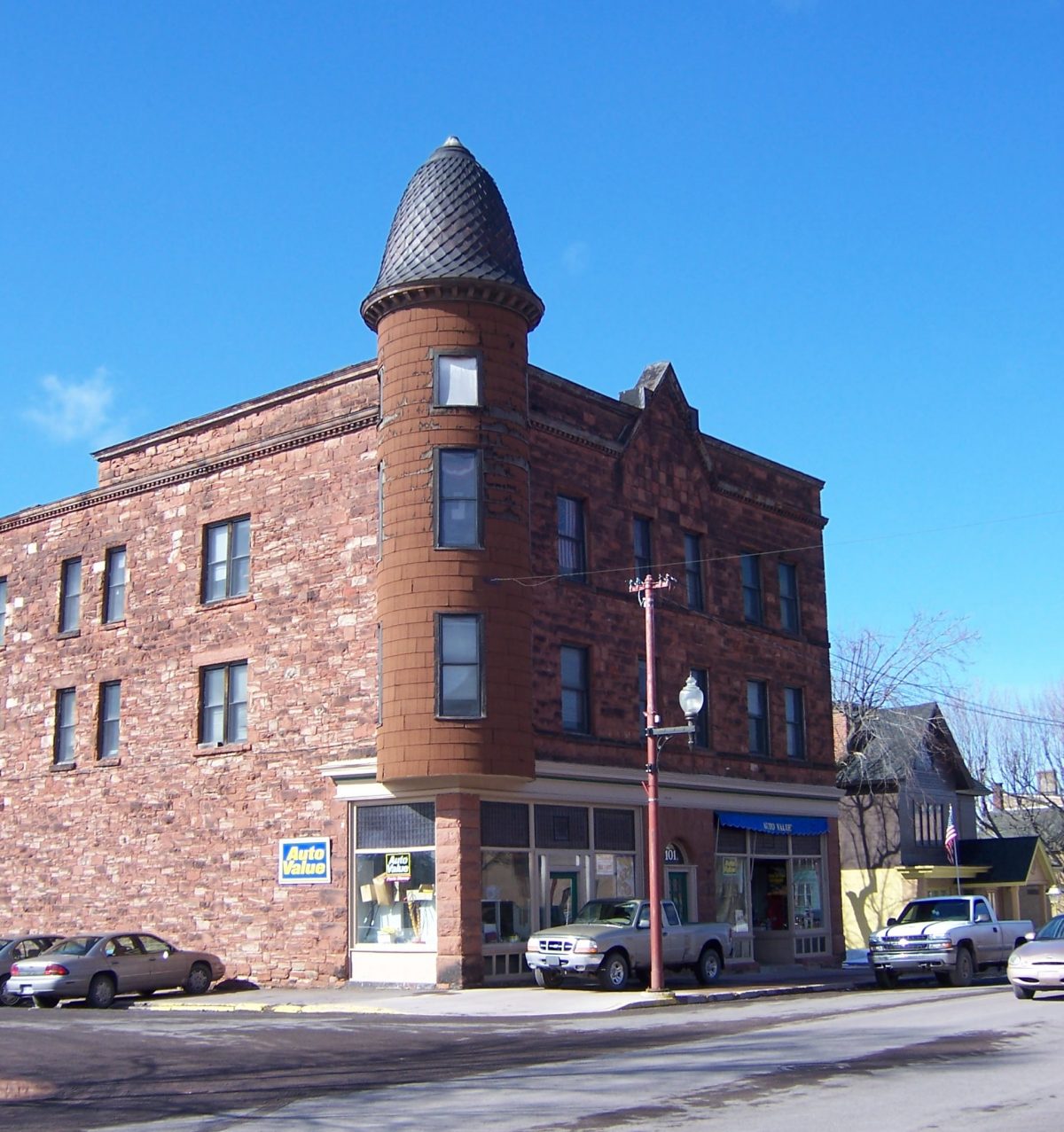 by Morgan Davis.
Architect: Charles W. Maass
Alternative Name: William Wayner Building
Location: 101 6th Street, Calumet
Built: 1898
Contractors: P.P. Roehm, masonry; and Bajari & Ulseth, carpentry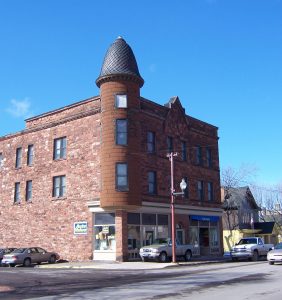 W.C. Kinsman learned the trade of harness-making in Cornwall and established a business in Red Jacket in 1872. He engaged Maass to draw the plans for a building to serve as commercial space and apartments.
Maass designed a three-story Portage Entry sandstone structure measuring 75' x 80'. The northwest corner features a shingled turret with a dome, while a galvanized metal cornice runs along the top of the building. Two first-floor storefronts are separated by the entrance leading to two floors of apartments. The round-arched center entrance is positioned below a center gable.
The building was completed for $14,000 in 1898 by local workmen. P.P. Roehm is credited as the mason and Bajari and Ulseth as the carpenter.
The Copper Country Evening News reported the following specifications on March 18, 1898:
First floor will be made into two large store rooms. Each of these will have 22' in front with large entrance in center and plate glass front with steel ceilings and other modern improvements. Second and third floors will be divided into comfortable flats for dwelling purposes.1
A few weeks later, the same newspaper explained the new technology applied to deal with the local weather conditions.
No fear of the snow on the roof thawing and then backing up as often is the case, as water will be conveyed to the drain by means of a pipe in the inside of the building where there will be no chance of its freezing.2
The newspaper also stated that the Kinsman Block was "more pretentious than any building so far erected in the village and reflects credits upon the architect."
| | |
| --- | --- |
| Kinsman Block, detail of doorway. Photograph by M. Davis, 2006. | Kinsman Block. From Our Boys in the Spanish-American War: A Souvenir, Illustrated (privately printed, 1900). |
Buildings by Maass, et al., in the Copper Country
Notes
Copper Country Evening News, 18 March 1898.
Copper Country Evening News, 10 May 1898.