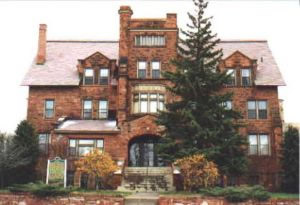 by Katie Torrey
Architect: Charles Archibald Pearce
Alternative Name: Finlandia University, Old Main
Location: 601 Quincy St., Hancock
Built: 1900
Contractors: Bajari & Ulseth; William Scott, masonry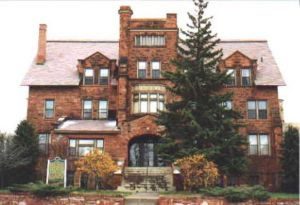 Suomi Old Main was the first permanent structure to be built for the Suomi Academy, a school that was started by the Finnish Lutheran Church to meet the spiritual and educational need of the local Finnish population. The school has since grown to a four-year university, now called Finlandia University, and is the only institution of higher learning in the United States that was established by Finnish-Americans. The school was started in 1896, meeting in rented buildings until the new building was completed.
The cornerstone was laid in May 1899 at a ceremony that became one of the largest gatherings in Hancock at that time. The building was completed in January 1900; Bajari & Ulseth of Calumet got the contract for the carpentry work, while William Scott of Hancock did the stonework. Pearce proudly showed an earlier version of the design in his advertisement in the city directory. This early version has an even more asymmetrical façade than the finished version, although the general massing is the same. As completed, the imposing building is constructed of Portage Entry sandstone, rough-faced and coursed. The two-and-a-half-story building has a gable roof and wall dormers. A square, four-story tower is centered on the front. Heavy buttresses divide the windows on the front and support the tower. The rear (north) side, by contrast, has no ornament other than smooth sandstone lintels over the windows, and walls are constructed of a lesser-grade, uncoursed sandstone.
Over the years the building has severed many purposes, originally housing a chapel, classrooms, faculty lounge, president's office, dormitories, kitchen, dining hall, and gymnasium. Juho Kustaa Nikander, the president of the college at the time the building was completed, was a bachelor and lived in the second and third floors of the tower.1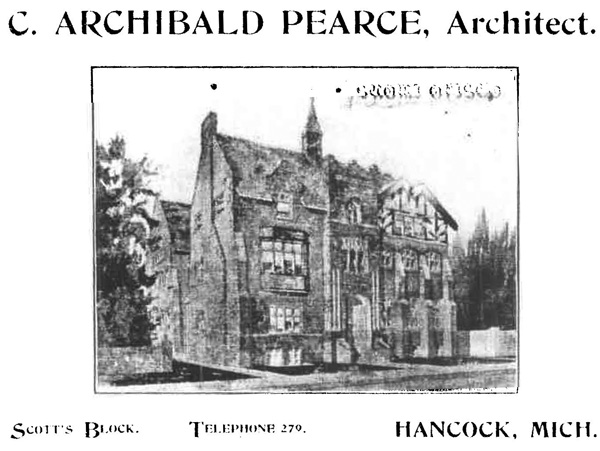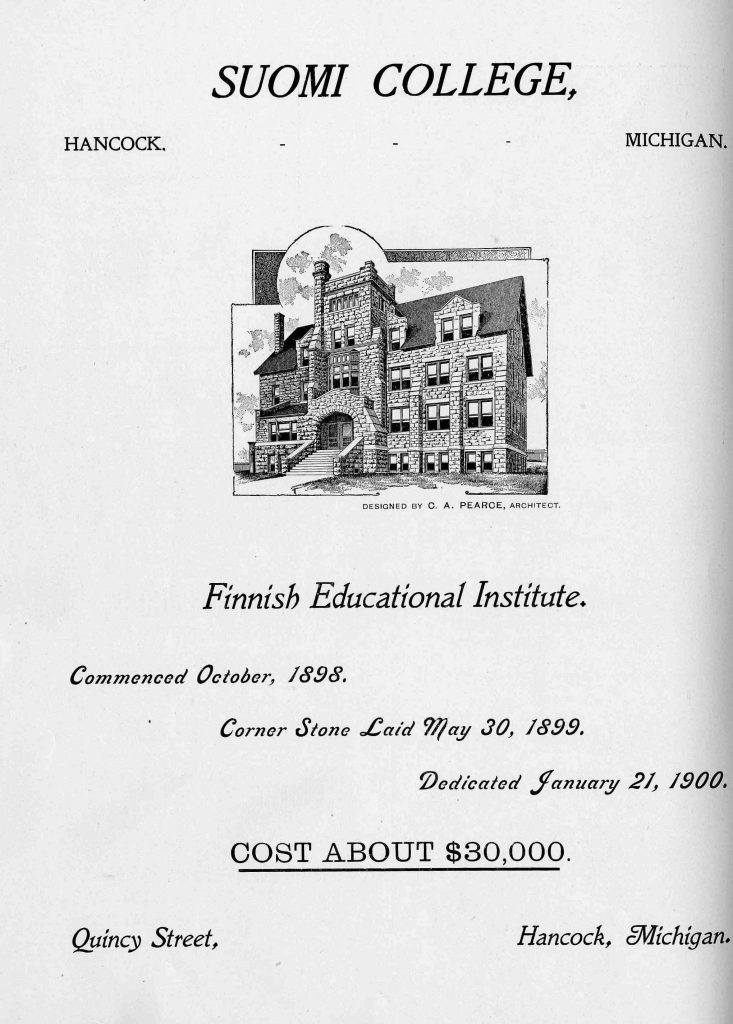 Buildings by Charles Archibald Pearce in the Copper Country
Notes
Eckert, Sandstone Architecture, 152-8. "Old Main," National Register of Historic Places Registration Form (U.S. Department of the Interior, National Park Service, 1971).