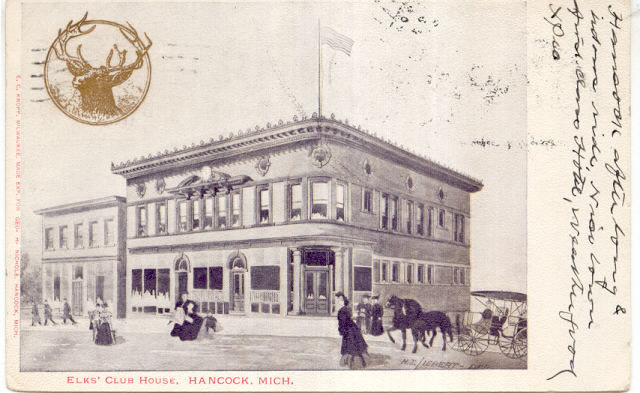 by Joe Lukaszewski
Architect: Hans T. Liebert
Location: Southeast corner of Hancock and Reservation streets, Hancock
Built: 1906
Demolished: ca. 1950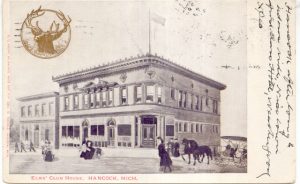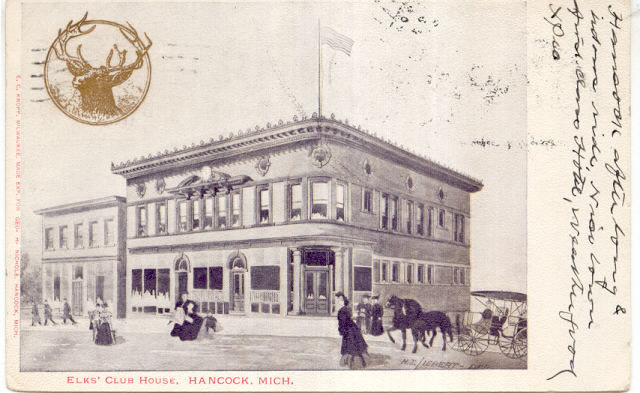 Hancock's Elks Club contracted for a two-story brick building with a rounded corner, elaborate cornice, and decorative molding over the second-floor windows. The basement was left unfinished, but was planned to accommodate bowling alleys or gymnasium, as well as the furnace. Commercial storefronts occupied the first floor, providing an income to the Elks. The second floor contained their lodge room with stage, as well as a library, private dining room, reception hall, billiard room, and kitchen. Oak woodwork adorned the rooms, including a 7'-high wainscot with plate rail and a beamed ceiling in the private dining room and a 3-1/2'-high wainscot and beamed ceiling in the library. The newspaper lauded the site: "The corner on which the structure will be erected is considered one of the best in the city and the fact that a magnificent building will be erected there by the 'Best People on Earth' is also pleasing." 1 This last quote was a reference to B.P.O.E., or the Elks' formal name, Benevolent and Protective Order of Elks.
Buildings by Hans T. Liebert in the Copper Country
Notes
"Contract Let for New Club House," Daily Mining Gazette, 1 December 1905.