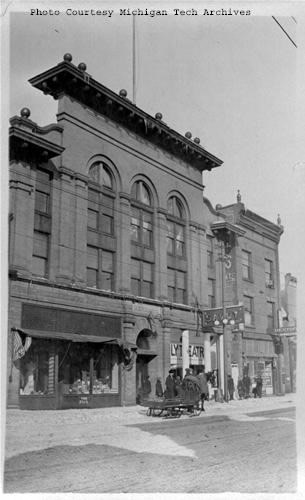 by Joe Lukaszewski
Architect: Hans T. Liebert
Location: North side Quincy Street, Hancock
Built: 1906
Destroyed by fire 1966
Contractor: Northern Construction Company
Plumbing: E. A. Hamilton
Heating: Funkey Bros.
Electricity: Charles Kenerson1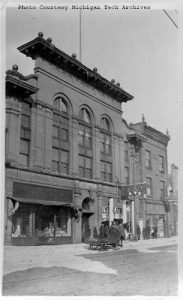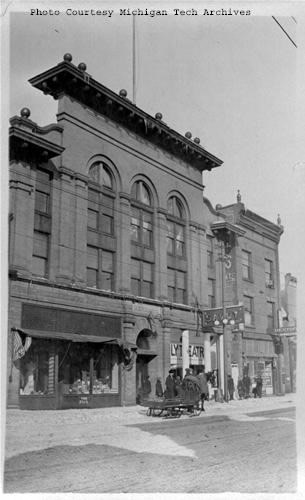 The German Aid Society, which claimed to be "the oldest society in copperdom," was formed in 1859 by forty-men who worked at the Quincy Mining Company. Besides its social function, the organization was also a benevolent society, providing aid for sick and disabled members and to the wives and children of deceased members. In 1873, the society built the first Germania Hall, which at the time was the largest building in Hancock. By the 20th century, that building was inadequate so the society tore it down and built this new building on the same site.2
It is not surprising that the German Aid Society would turn to the German-born Leibert to design this building. The brick building with sandstone trim measured 60′ x 135′. The first floor was divided into two stores, a mezzanine level contained a banquet hall, kitchen, and janitor's quarters, and the third floor had a large hall, with a floor space of 57′ x 80′ plus a stage and gallery. The hall was marked on the exterior by three tall round-arched windows, each the equivalent of three stories high. The hall was lit with six arc lamps and decorative lights.3 A prominent cornice crowned the building.
When the building was destroyed by fire in 1966 it was known as Lincoln Hall and was serving as a teen center.4
Buildings by Hans T. Liebert in the Copper Country
Notes
"Fine Building Now Completed," Sunday Mining Gazette, 6 January 1907.
"Fine Building Now Completed."
"Fine Building Now Completed."
Daily Mining Gazette, 4 December 1966.