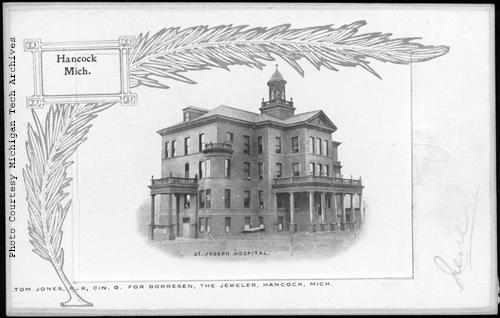 by Joe Lukaszewski
Architect: Hans T. Liebert
Location: Water Street, Hancock
Built: 1902-04; demolished late 1985
Contractor: Fred E. King and Co.; Plastering: William Patton; Plumbing and gas: Fred Stoyle; Heating: James Sullivan; Electric wiring: George H. Hall and Co.; Tile and marble: George H. Rees; contractor for laundry building: George McGlynn.1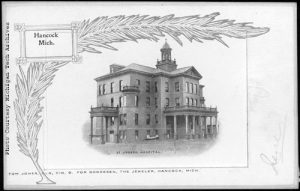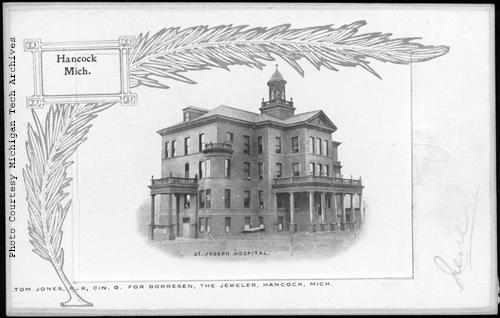 St. Mary's Hospital was established in 1896 in Bishop John Vertin's family home in Hancock. In 1903 construction started on this hospital building, which adopted a new name, St. Joseph's. The imposing three-story structure contained operating rooms, wards for patients, a sterilizing room, an etherizing room, a chapel, living quarters for the Sisters of St. Joseph, and an elevator. The building promoted its modernity and sanitary qualities, such as the marble wainscoting, enameled white walls, and curved corners of the sterilizing room. The building was equipped with both electricity and gas for lighting, as well as "the most modern system of sanitary plumbing and ventilation." Contemporary thinking about ventilation also prevailed: "The corridors on the first, second and third floors present magnificent walks for the convalescent patients. They are roomy and well lighted and on the two lower floors they terminate in balconies intended as places of rest and fresh air for the convalescents." The hospital attempted to provide for the wealthier patients: not only were there rooms for two beds, there were single rooms as well. "On the second floor are the private rooms, large, airy, each with one bed. Here the private patients will be treated. On the second floor there is also one elegant suite of rooms intended for the use of such patients as may desire more luxury than the ordinary person can afford."2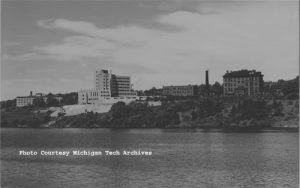 The brick building measured 105 by 70 feet and cost about $100,000 to construct. The sandstone basement contained a full story, which held the emergency room. Ambulances unloaded patients under the porte-cochere on the east side. Porticos on front and rear also decorated the building and rounded corners on the east side were topped with balconies above the second level. The hipped roof had a cross gable on the east side; at the center of the roof was distinctive cupola, rising 110 feet from the ground.1
A stone passageway connected the hospital to the laundry and heating plant. This 60′ x 30′ building housed the heating plant on the first level, with an 80′-high smoke stack. The hospital laundry was on the second level.
In 1920 St. Joseph's School of Nursing was established. A three-story brick nurse's residence was added to the complex in 1930. In 1950 a new seven-story, International Style hospital was constructed. The nursing school moved into the old hospital, which was then called Ryan Hall. The nursing school was dissolved in 1975 and the old hospital demolished a decade later. St. Joseph's Hospital took on a new name, Portage View, the next year and became the Portage Health System in 1995. In 2000 the hospital moved to a new facility on Quincy Hill.
Buildings by Hans T. Liebert in the Copper Country
Notes
"New Hospital a Model Structure," Daily Mining Gazette, November 3, 1903.
"The New Hospital is Magnificent," Daily Mining Gazette, June 4, 1904.