by Joe Lukaszewski.
Hans Theodore Liebert (1877-1966) practiced in the Copper Country for about ten years, during which time he designed several major buildings in Houghton and Hancock, including five houses in East Hancock for prominent citizens, as well as two business blocks in Houghton and two in Hancock.
Biography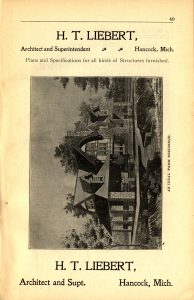 Liebert was born in 1877 in Berlin, Germany, and immigrated to the U.S. in 1884. He married his wife, Florence, in 1903, and they had at least two sons, one an architect and the other a designer of stove equipment. Liebert died in 1966 in Illinois.1
Liebert is first referenced in the Hancock city area in about 1901, when he had offices in Calumet and Hancock. He boarded at the house of Edwin Penberthy in East Hancock. By 1903 he had consolidated his offices in the Kauth Block, 220-22 Quincy St., Hancock, a building that he designed in 1900.2 It was destroyed in 1944 when a gas line in the basement exploded. In the 1909-1910 directory he was listed as living at the home he designed for himself at 214 Mason St., East Hancock. He owned his house until 1912, when he apparently left the Copper Country.3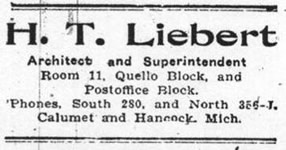 In 1918 Liebert registered for the draft from Wausau, Wisconsin.4 Liebert designed the Medford Free Public Library in Medford, Wisconsin (1912), the Linden High School in Linden, Wisconsin,5 and the chapel added to Mather Hall at Kansas City University in Kansas City, Kansas (1937).6
Buildings
Notes
Fifteenth Census of the United States, Ancestry Library Edition, 31 July 2006.
World War I Registration Card, Ancestrylibrary.com.