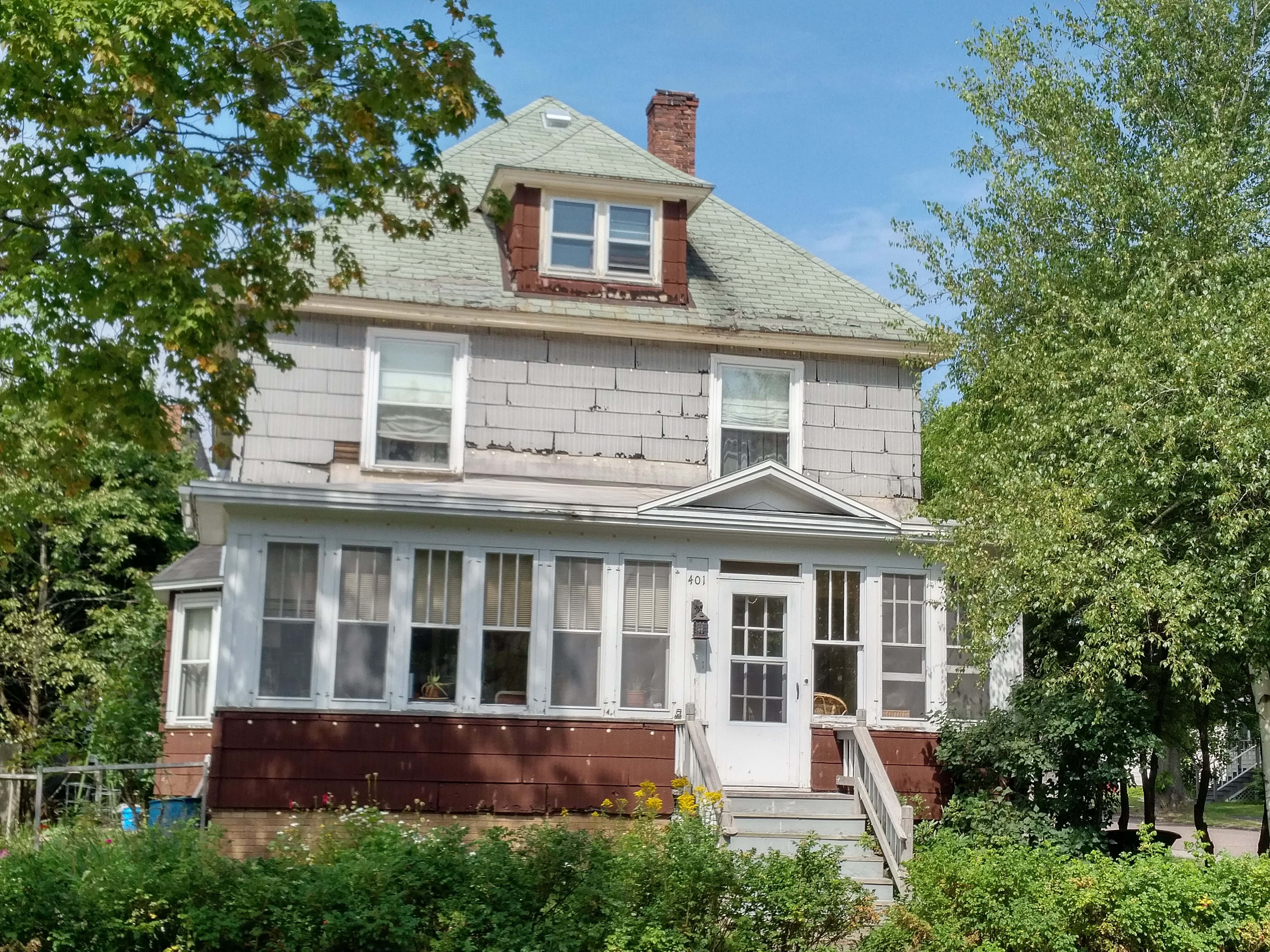 by A. K. Hoagland.
Architect: Carl E. Nystrom
Location: 401 Tamarack St., Laurium
Built: 1901
Donald McKenzie, a blacksmith, and his wife, Ellen, lived in this house with their son, Angus.  Donald McKenzie, born in Canada, was of Scottish descent.  In 1900 he and Ellen lived in their own house in the next block, at 325 Tamarack, with four boarders.  In 1901 they hired Carl Nystrom to design a new house.  By 1916, Angus was still living at home, but working as a helper at Calumet and Hecla.1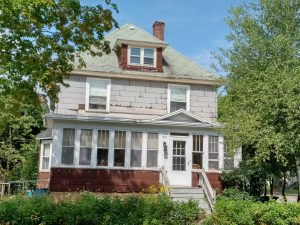 The house, which measured about 30 x 40 feet, cost an estimated $3,500 to build.2   The hip-roofed two-and-a-half-story house has two hip-roofed dormers.  It is wood-frame, originally clapboarded and now covered with cement-asbestos siding, and stands on a Jacobsville sandstone foundation.  There is a one-story bay window on one side.  The newspaper described the interior: "there will be a vestibule and an extra large reception hall, the latter having an open fireplace.  There will also be on the first floor a parlor, dining room, kitchen and pantry."  On the second floor were four bedrooms and "a large bath room which will be finished in white enamel with pine flooring."  The basement held "a laundry, store room, boiler and coal rooms."  Most impressive was "a large spacious veranda with an upper deck.  Heavy turned columns with carved capitals will support the veranda, the columns being set in pairs."  Today there is one-story enclosed porch across the front.  The house was equipped with "all the modern conveniences" and was promised to be "modern and up-to-date."3
Buildings by Carl E. Nystrom in the Copper Country
Notes
[1] Polk directories.
[2] "One to be Erected in Laurium for Daniel McKenzie," Daily Mining Gazette, July 20 1901, p 6.
[3]"One to be Erected in Laurium for Daniel McKenzie," Daily Mining Gazette, July 20 1901, p 6.