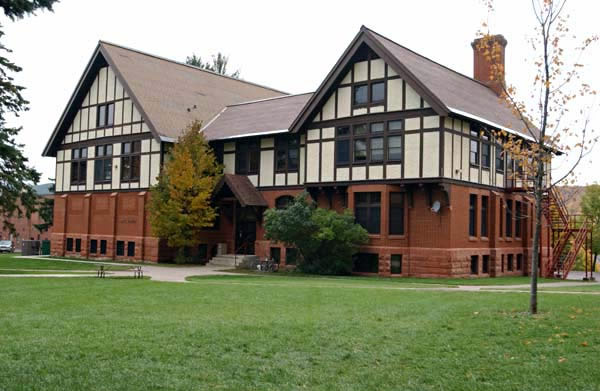 by Dany Peavey, Stevan Sliger, John Krystof, and Travis Dvorak.
Architect: Charlton & Kuenzli
Alternative Name: ROTC Building
Location: Houghton, MI
Built: 1904-06
Contractor: Herman Gundlach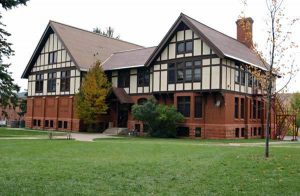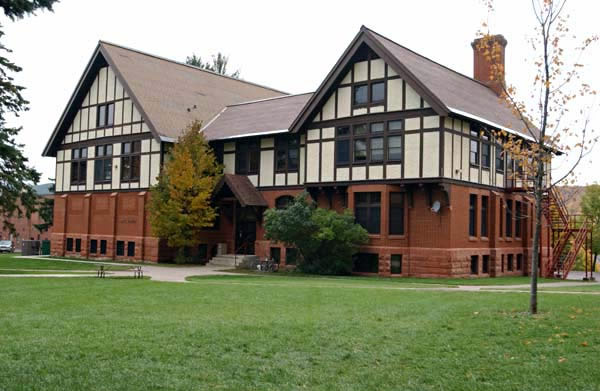 This building, the oldest remaining on campus, was built as the gymnasium and clubhouse in 1904-06. In 1902, the faculty pledged to donate $1,700 toward the new building and the students raised it to $5,000. When the fund reached $18,500, construction began. The gymnasium doubled as an assembly hall, and graduation ceremonies were held here. Currently, it is home to Michigan Tech's ROTC program.1
The Tudor Revival-style building has a Jacobsville sandstone foundation, brick first floor, and half-timbered upper stories. Two gable-fronted sections project, while the lower center section has a side-gable roof. A bay window, buttresses, and door hood add to the liveliness of the building. Inside, the gymnasium occupies the large section on the west. The suspended wooden running track survives. The section on the east was used as the clubhouse, predecessor to the student union. A large fireplace at one end created a club-like feel.
Buildings by Charlton, et al., in the Copper Country
Notes