by Dany Peavey, Stevan Sliger, John Krystof, and Travis Dvorak.
D. Fred Charlton and his associates had the most significant architectural practice in the Copper Country. Although they kept an office in Hancock for only a few years (listed in the 1899-1900 and 1901-02 directories), from their office in Marquette they were able to obtain most of the important commissions. With Calumet & Hecla Mining Company (two buildings) and Michigan College of Mines (six buildings) as their clients, they had an enormous impact on the architectural scene. Usually favoring a restrained classicism, their buildings were substantial and dignified. Their practice included designs for commercial, residential, ecclesiastical, and educational buildings.
Biography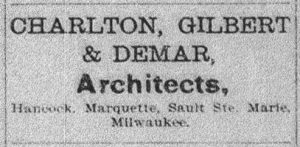 Demetrius Frederick Charlton
Charlton (1856-1941) was born in Wratham Kent, England, on May 9, 1856. Before moving to America he had been trained in civil engineering. He started his American career as a draftsman in the Detroit/Windsor area in 1870, but quickly moved up to apprenticeships with major Detroit-based architectural firms.
In 1881 he became an apprentice at the firm of Gordon W. Lloyd. He is next found working as an apprentice for William E. Brown's firm in 1883. He moved on to his final apprenticeship in 1884 with John Scott & Co. He moved up in the ranks of this firm and by 1887 he was sent to start a branch in Marquette, Michigan. At this point Charlton was made into a partner.
The partnership of Scott & Charlton lasted only until 1890 when Charlton broke away and started his own architectural firm in Marquette, soon partnering with R. William Gilbert (1891). With the addition of Gilbert the newly named firm expanded to the city of Superior, Wisconsin. In 1894 the firm designed Sacred Heart Church in L'Anse. In 1895 Edward Demar joined the duo to create Charlton, Gilbert, & Demar. The firm was then able to expand once again, this time creating a branch office in Milwaukee, Wisconsin.
When Demar left in 1901 the firm again became Charlton & Gilbert until three years later when Gilbert moved on. At this time Charlton partnered with a young draftsman named Edwin O. Kuenzli to form Charlton & Kuenzli.
Charlton retired in 1918 and opened a small photography shop in Marquette with his wife, Alice H. Grylls. Photography was always a love of Charlton and this shop prospered by offering state-of-the-art color photography techniques to the Upper Peninsula. Charlton died January 25, 1941, in Marquette.
[2022 update: For much more information on Charlton, see Steven C. Brisson,  Architectural Missionary: D. Fred Charlton in Michigan's Upper Peninsula, 1887–1918 (Lansing: Michigan State University Press, 2021).]
Robert William Gilbert
There is not much known about Gilbert. He began practice in 1887 in Boston and designed buildings there which are known only because he used them on his application to the American Institute of Architects. He joined Charlton in 1891 and in November 1892 moved to Superior, Wisconsin, to open a branch office. Apparently it was not a success, so in 1895 he opened a branch office in Milwaukee. He left the firm in 1904.
Edward Demar
Edward Demar was born on July 10, 1864, in Rouse's Point, Vermont. He was born to John Demar and wife Elizabeth Garton, one of three boys and four girls. John Demar was born in 1835 in Vermont and throughout his life achieved the positions of master mechanic as well as contractor and builder. Elizabeth Garton was born in London, England, in 1843. On August 28, 1890, Edward Demar married Kate Hoffenbacher, with whom he had three children.
In the early 1880's his father moved the family to Toronto, Ontario. Edward was apparently gifted with mechanical skills as well as artistic talent, of which he made good use while studying architecture in Toronto. Before coming to the Upper Peninsula Edward was briefly employed as an architect in Toronto and afterwards as a draftsman in Winnipeg, Manitoba.
Demar moved to Marquette in the 1880's and worked as a draftsman in J.B. Sweatt's office. He then worked with B.H. Pierce & Co. at Hancock and E. E. Grip & Co. of Ishpeming.
In 1891 he formed a partnership with Andrew Lovejoy and created the firm of Lovejoy & Demar. One major commission was the Marquette City Hall, a blend of Second Empire, Renaissance Revival, and Richardsonian Romanesque styles, constructed of red brick and purplish brown sandstone.
In 1895 Demar joined Charlton and Gilbert in the firm Charlton, Gilbert & Demar. In 1899 he moved to the Milwaukee office, but withdrew from the firm in 1901. Demar then moved back to the Upper Peninsula and opened an office in Sault Ste. Marie.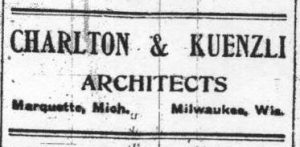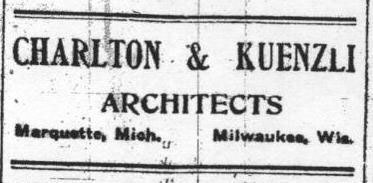 Edwin O. Kuenzli
Edwin O. Kuenzli (1871-1948) was born on January 24, 1871, in Milwaukee, Wisconsin. He was educated in the Milwaukee public school system. Later he studied architecture under Charles Kirchoff and completed his training in the architectural school at the University of Pennsylvania in 1899. He returned to Milwaukee and became head draftsman for Charlton, Gilbert & Demar. He was made partner in 1903. Kuenzli headed the Milwaukee office of the firm, which had many commissions in the Upper Peninsula, including the Delft Theater in Escanaba, built in 1914.
After Charlton retired in 1918, Kuenzli partnered with William G. Herbst for the next twenty years. Herbst & Kuenzli designed several prominent churches and schools in the Milwaukee area as well as buildings for Marquette University. Kuenzli retired in 1942 and spent his remaining years in Wauwatona, Wisconsin. A member of the Wisconsin Chapter of the A.I.A. for almost fifty years, he died on November 21, 1948, at his home in Wauwatona. For more information on Demar, see The Biographical Dictionary of Architects in Canada, 1800-1950.
William G. Herbst
Herbst (1885-1959) was born in Milwaukee and attended the Armour Institute of Technology in Chicago, graduating in 1903. In 1911 he opened his own architectural practice in Milwaukee, then partnered with William F. Hufschmidt the next year. After Hufschmidt's death in 1918, Herbst joined with Kuenzli until the latter's retirement in 1942.1
Buildings
Notes
Most of the information for this article was obtained from Steven C. T. Brisson, "D. Fred Charlton's Architectural Practice and Design in the Upper Peninsula of Michigan" (M.A. thesis, New York College at Oneonta, 1992).
City of Milwaukee, "Milwaukee Historic Ethnic Architecture Resources Study" (August 1994), 36-40.