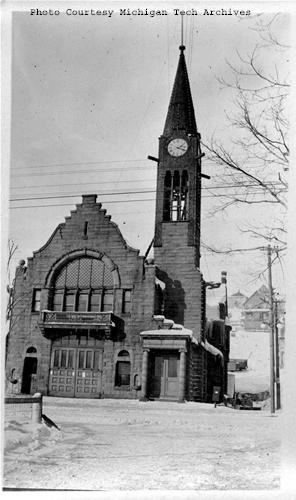 by Dany Peavey, Stevan Sliger, John Krystof, and Travis Dvorak.
Updated 2021 by Steven Walton
Architect: Charlton, Gilbert, & Demar
Alternative Name: Hancock City Hall
Location: 399 Quincy Street, Hancock
Built: 1898-99
Contractor: E. E. Grip & Co. of Ishpeming
Interior Painting: Associated Artists of Milwaukee
In February 1898, three architectural firms submitted plans for this commission: William T. Pryor, C. Archibald Pearce, and Charlton, Gilbert & Demar. The latter firm was selected, on Feb. 23, 1898 and paid $385 for the plans and specifications on June 1.3
The 75'x120′ lot for the building had been purchased from the Quincy Mining Co. for $2500 in January 1989, and the Common Council expected the building to cost $10,000. The building was dedicated on February 16, 1899, having ultimately been constructed at a cost of $15,000.
The newspaper lauded the building:
The building, of Portage Entry sandstone, is two stories high, with a Venetian clock tower at the corner by the main entrance, and is 49 by 96 in ground dimensions. The front elevation with its tower and the battlements and the large triple window in the center, presents a splendid appearance from the street and is a credit to the architects, Charlton, Gilbert & Demar of Marquette and Milwaukee.1
The first floor accommodated the fire department, and the second floor housed the clerk's office and council chambers. Also on the second floor was the firemen's assembly hall,
…the handsomest feature of the building. This room, with its hardwood floor, vaulted ceiling and heavy cornices, has been decorated in warm terra cotta, shading into lighter colors in the ceiling and elaborately frescoed. It is a masterpiece in its way, and with the council chamber reflects the greatest credit upon the Associated Artists. The assembly hall is lighted by 120 incandescents set in the ceiling.2
The building was distinguished by a 90'-high corner tower, used for drying fire hoses as well as displaying the town clock. The rough-faced sandstone building had a broad front with a Flemish gable. At the second level, a large round-arched window illuminated the council chamber. Hancock became a city in 1903.
Buildings by Charlton et al. in the Copper Country
Notes
Marquette Mining Journal, 30 January 1899, cited in Eckert, Sandstone Architecture, 161.
Ibid.
Common Council Minutes, Hancock City Hall, volume beginning in 1892, pp. 183, 186, 188, 191, 227 234.