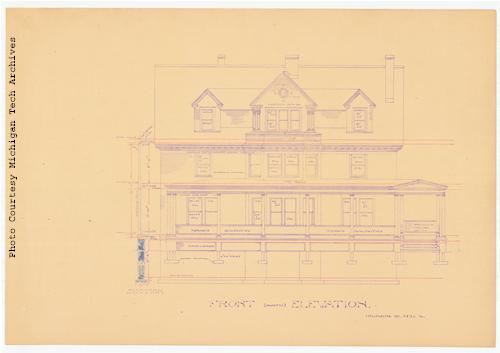 by Dany Peavey, Stevan Sliger, John Krystof, and Travis Dvorak.
Architect: Charlton, Gilbert, & Demar
Location: 211 (formerly 110) A St., East Hancock
Built: 1900
Demolished: 1930s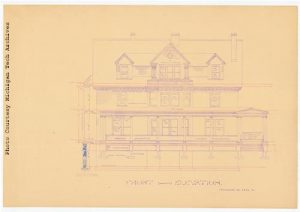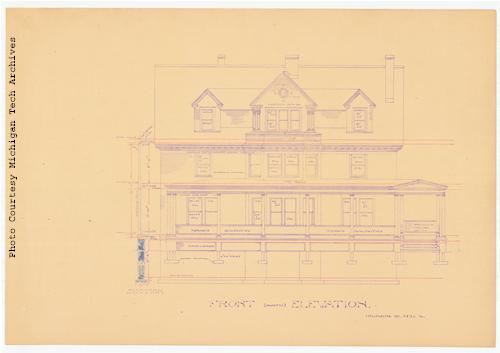 James R. Cooper, head of the Detroit & Lake Superior Smelter Company, also designed Quincy's new smelter in 1898 and was superintendent from 1898-1906. Apparently, housing was part of that arrangement, because in 1900 Quincy gave him $7,000 to underwrite the cost of his new house. The house belonged to Quincy, though; Cooper leased it back from the company for $350 a year.1
Charlton, Gilbert & Demar designed a house that was large in size but modest in style.  The two-and-a-half-story, wood-frame house had narrow clapboard siding, a Portage Entry sandstone foundation, and a porch on two sides.  The porch had Ionic columns and turned balusters.  The front of the house had a two-story bay window; the door was on the side of the house.  Paired Corinthian columns decorated one of the three gable dormers on the side-gable roof.   The first floor included  a parlor, sitting room, dining room, library, coat room, and various service spaces, while the second floor had six bedrooms, a linen closet, and a bath room.  Two bedrooms and a sitting room, along with an unfinished store room, occupied the attic.  The specifications noted that "All material used to be the best of their respective kinds, and the work to be done in the very best style of workmanship, and to be done under the direct supervision of the Architects."2
James Cooper died in 1906. In 1917 the building became a Finnish hospital. In 1931 it accommodated a restaurant known as the Italian Gardens, which was destroyed by fire. A newer house now sits on the site.3
Buildings by Charlton et al. in the Copper Country
Notes
Memorandum of Agreement between Cooper and Quincy Mining Company, 18 July 1900, 001/338/18, MTU Archives.
"Working Drawings for House for J. P. Cooper, Esq., of the Quincy Mining Co.," Charlton, Gilbert & Demar, May 1900, in Dr. 62H, MTU Archives. Specifications, House for J. R. Cooper, 001/338/18, MTU Archives.