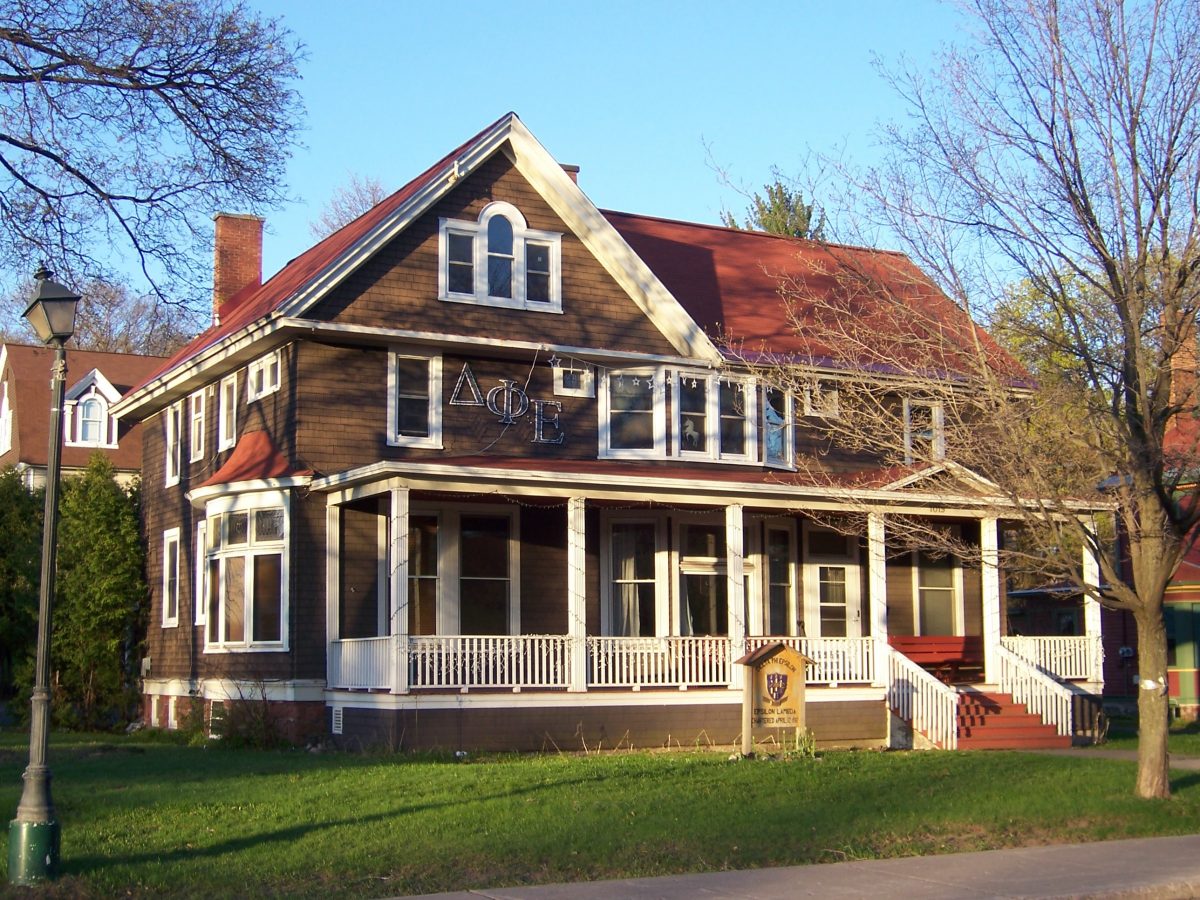 by Dany Peavey, Stevan Sliger, John Krystof, and Travis Dvorak.
Architect: Charlton, Gilbert, & Demar
Location: 1019 College Ave., Houghton
Built: 1899
Builder: H. Ferge of Milwaukee
Painting and Decorating: Hamilton & Eade of Duluth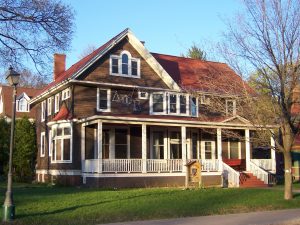 John L. Rees, assistant cashier at the National Bank of Houghton, commissioned this two-and-a-half-story building with shingle-clad walls and a porch across the front. A slightly projecting two-story bay window on the front, and a one-story one on the side, add to the visual interest. The cross-gable roof has a Palladian window in the front gable. When it was built, the newspaper said it was "not an extremely large house, but it is thoroughly modern in every particular." The shingled walls were painted dark brown, the trim a cream color, and the roof green. The house had five bedrooms and a bathroom, with servants' rooms in the attic. The house had both electric lights and gas and, according to the paper, Rees planned to put a gas engine in his yard to make his own gas. The house cost $6,000 to build with another $1,000 for landscaping and outbuildings.1
By 1903, Rees had moved to Cleveland and sold the house to Nellie P. Douglass, who lived there with her husband, Courtney C. Douglass. Courtney Douglass, son of Columbus C. Douglass, handled his father's real estate holdings, but this house remained the property of his wife. By 1928 it was the home and office of Dr. Alfred Labine until his death in the late 1960s. Since 1991 it has been the home of Delta Phi Epsilon sorority.2
Buildings by Charlton et al. in the Copper Country
Notes
"Mr. Rees' New Residence Fast Nearing Completion," Copper Country Evening News, 17 October 1899.
David Kopke, research paper, April 2003.