by Sarah Nunn.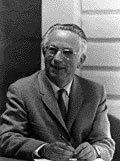 Although Alden B. Dow (1904-1983) never lived in the Copper Country, his firm, Dow, Howell, Gilmore, & Associates, was responsible for the construction of Sherman Gym (Walker Arts and Humanities Center) on the campus of Michigan Technological University, where they used Dow's philosophy of blending architecture with the natural surroundings. Dow believed that nature was ever-changing and therefore he refused to design in only one style of architecture, as evident by his diverse buildings.1
Biography
Alden B. Dow was born in Midland, Michigan, on April 10, 1904, to Herbert Henry and Grace A. Dow.2 His father, who founded the Dow Chemical Company, bestowed upon Alden a love for nature and a desire to maintain the inter-reactions between beauty and human development.3
Alden, along with his two younger sisters, Margaret and Dorothy, spent a considerable amount of time in their backyard creating floor plans out of leaves. At the age of 8, Alden, when asked what he wanted to be when he grew up, responded, "An architect, of course."4
However, after attending Midland Public Schools, Dow was sent to the University of Michigan to study chemical engineering in preparation to enter his father's company. Alden was unhappy with this career path and, after three years, left the University of Michigan to attend Columbia University to study architecture. He graduated in 1931 and married Vada Bennett shortly thereafter. They later had three children: Michael, Mary, and Barbara.5
Immediately after graduation, Dow went to work for Frantz & Spence of Saginaw, Michigan. However, Alden and Vada chose to spend the summer of 1933 at Taliesin with Frank Lloyd Wright. Wright shared Dow's interest in nature and the effects of a building on nature.6 Therefore, when Dow returned to Midland in 1934, he opted to open his own firm where buildings could be designed with "honesty, humility, and enthusiasm."7
Dow's early work consisted primarily of residential, unit-block construction that he designed. This led to Dow receiving the Diplome de Grand Prix at the Paris International Exposition in 1937 for the best residential construction in the world for the John Whitman house.8
Dow went on to become a registered architect in thirteen states. His portfolio included over sixty homes in Midland in addition to numerous religious, education, civil, and commercial structures. In 1937, Dow designed the Dow Chemical Company Administration Building. During World War II, Dow even designed and personally supervised the construction of the entire town of Lake Jackson, Texas.9
In November of 1941, the firm was officially opened as Alden B. Dow, Inc., which was later changed to Alden B. Dow & Associates. In 1955, Dow designed the Konteka Motel in White Pine.10
Throughout his career, Dow won multiple awards for his designs. He received honorary degrees from Albion College, Hillsdale College, Michigan State University, Northwood University, and the University of Michigan. For his "notable contributions to the advancement of his profession by way of his achievement in design," Dow became a Fellow in the American Institute of Architects in 1957. He was selected in 1982 as the first recipient of the Frank Lloyd Wright Creativity Award and was named Architect Laureate in Michigan in 1983. He is still the only architect in Michigan to receive this award.11
Shortly thereafter, at the age of 79, Alden Dow died on August 20, 1983.12
The firm that Dow created continues on today as Dow, Howell, Gilmore, & Associates (DHGA). The main office still remains in Midland, Michigan, with approximately 15 employees; however, they also have an office in West Palm Beach, Florida, that employs another 10 people. Jim Howell acts as chairman of the board and ensures that Alden B. Dow's love for integrating structures into nature continues on.
Buildings
Notes
Alden B. Dow, Reflections (Northwood Institute: 1970).
Dow Howell Gilmore Associates, Inc., Corporate History: Alden Dow.
Dow Howell Gilmore Associates, Inc., Corporate History: Alden Dow.
Alden B. Dow, Reflections (Northwood Institute: 1970).
http://www.exploringthenorth.com/konteka/motel.html
Dow Howell Gilmore Associates, Inc., Corporate History: Alden Dow.