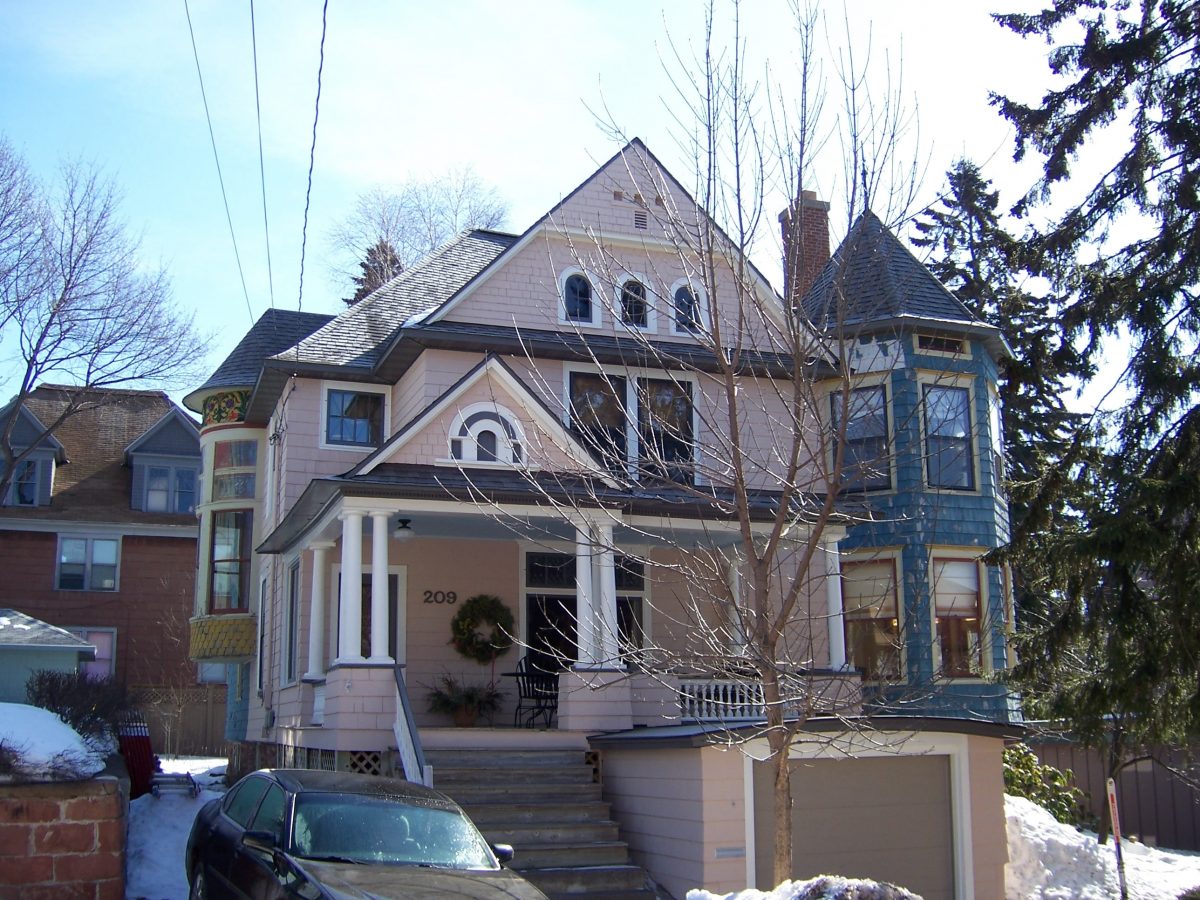 by Katie Torrey
Architect: Charles Archibald Pearce
Location: 209 Center St., East Hancock
Built: ca. 1900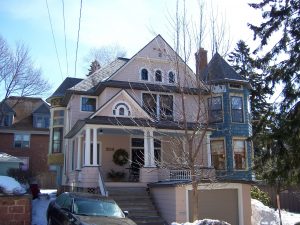 If Pearce had any role in the design of this house, he borrowed heavily from Frank P. Allen, who published this design in his 1892 book Artistic Dwellings.  Blueprints of Allen's design were found in the house in 1986.1  Pearce may have adjusted Allen's patternbook design, particularly in the kitchen area, for Edwin and Maria Henwood.  Edwin worked as a commission merchant and travel agent.2 The Henwood family owned this home until 1924 and it is still a private residence.
This exuberant shingle-style house is two-and-a-half stories tall. The hip roof has a cross gable, with three round-arched windows in the peak of the gable. There is a two-story polygonal bay window on the right front (southwest) corner, crowned by a polygonal peaked roof. On the north side, there is a rounded two-story oriel window topped with a conical roof above an ornate frieze. The front porch is also hip-roofed with a cross gable and has columns perched on shingled walls. Above the high sandstone basement, the wood frame is clad in shingles. The windows display a variety of stained glass.
The second owners, Bernhard and Anna Paulsrud, who owned the house from 1928 to 1958, made some important changes.  They removed the curved portion of the north side of the porch and added the garage under it.  They also placed wood shingles over the original narrow clapboards.3
Buildings by Charles Archibald Pearce in the Copper Country
Notes
Frank P. Allen, Artistic Dwellings (privately printed, Grand Rapids, Mich., 1892), Design No. 156.  My thanks to Ellen Croll for pointing this out.
Notes provided by Ellen Croll, email to author, October 2009.