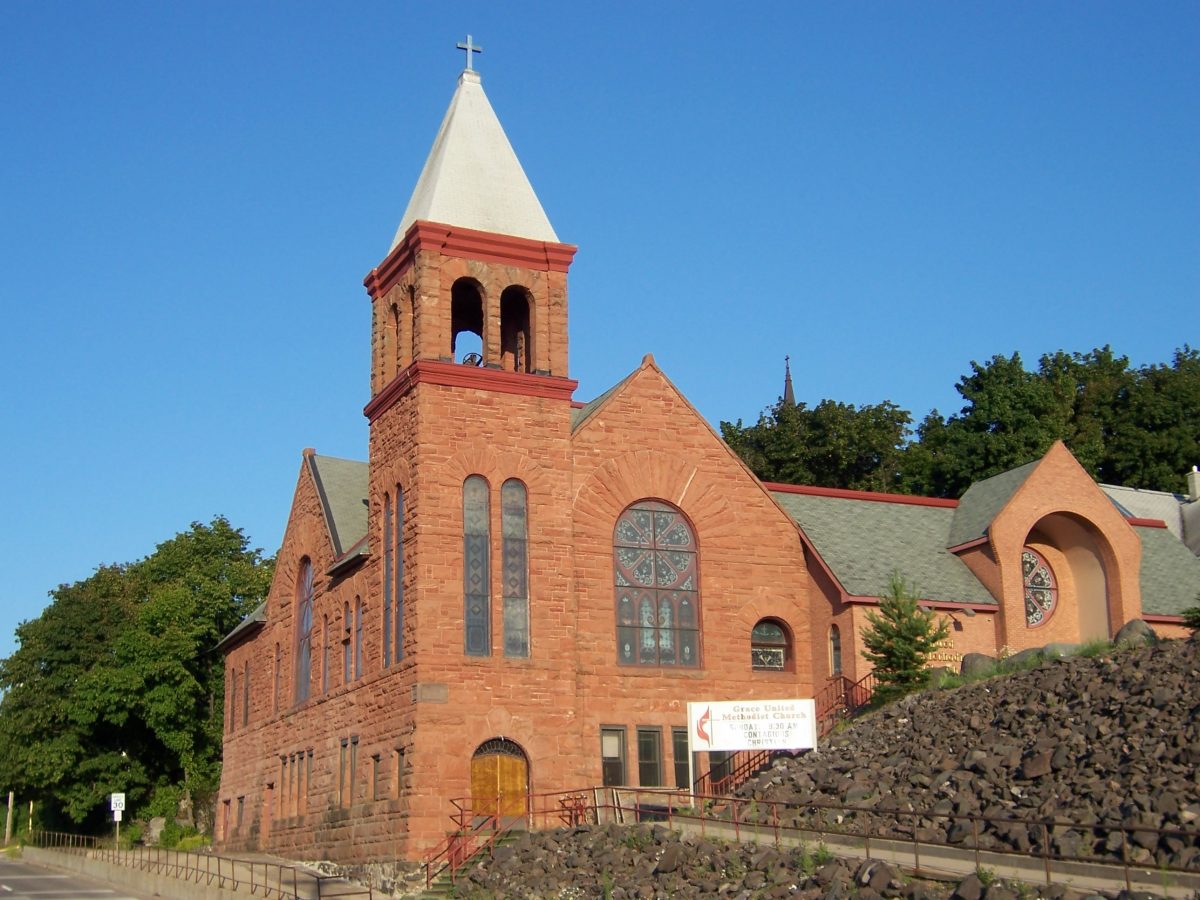 by Scott Hager.
Architect: William Pryor
Location: 102 Isle Royale St., Houghton
Built: 1892-1893
Rebuilt: 1916-25, C. W. Maass, architect
Addition to south: 1991, Thomas Moyle, contractor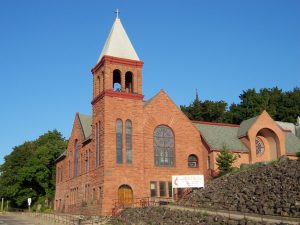 The first Grace United Methodist Church was built in 1854, brought about by a group of Methodists known as the Portage Lake Class. It was a single-story wood-frame structure with no basement. In the late 1880s and early 1890s the church experienced a steady increase in membership and needed to accommodate the increasing amount of people. In 1892 and 1893 the old structure was torn down and the new one erected on the same location at the corner of Isle Royale and Montezuma.
In 1892 Pryor submitted plans for the new Grace United Methodist Church. The decision to use his plans may have been influenced by his family's connections to the church. The building was finished in early 1893.1
The Richardsonian Romanesque building cost $18,000.2 The Jacobsville sandstone building has large, round-arched windows with stained glass and a substantial corner tower. The new structure had a basement which included a kitchen, boiler room, Sunday school room, and a social area. The main level contained the sanctuary and meeting rooms. The main level had two entrances; one through an interior stairway in the tower, and an exterior staircase. One distinctive feature of this building is the stained-glass windows.
On November 24, 1916, a fire in the church destroyed the interior. The Maass Brothers, architects, undertook designs for the reconstruction, which made some modest changes to the original building. Maass eliminated indentations to produce a rectangular plan, extended the building toward the rear, and eliminated the exterior stairs.3
Due to lack of funds the church was not finished until 1928. Even with the fire and remodeling, the congregation was able to retain the large stained-glass window. In 1969-71 a fire escape was added to the east and a cry room was added to the back of the sanctuary.4 In 1979, a handicapped entrance was added to the building. In 1990-91 the congregation undertook the latest addition to the church, expanding the sanctuary to the south in concrete of the same color as the sandstone. On June 30, 1991, the $650,000 addition, constructed by Thomas Moyle, was complete.5
| | | |
| --- | --- | --- |
| Maass Brothers' plans of original church and planned reconstruction, 1916, from Reynolds, 32. | Plans made by Hitch, Inc., showing configuration of church 1925-90, from Reynolds, 44. | Plans by Hitch, Inc., showing 1990-91 expansion, from Reynolds, 61. |
Buildings by William Pryor in the Copper Country
Notes
Terry S. Reynolds, "Grace of Houghton: A History of Grace United Methodist Church, Houghton, Michigan, 1854-2004" (2004), 25.
Reynolds, 25.
Reynolds, 33, 35.
Reynolds, 51.
Copper Country Evening News, April 4, 5, and 8, 1899.
See also