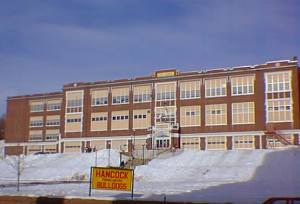 by Andrew Bolthouse
Architect: G.L. Lockhart
Alternative Name: Hancock Middle School
Location: 417 Quincy Street, Hancock
Built: 1923-24
Contractor: Archie Verville
Electrical contract: Cuff & Co. (Edward Cuff)
Plumbing: Gibson Plumbing Co., Minneapolis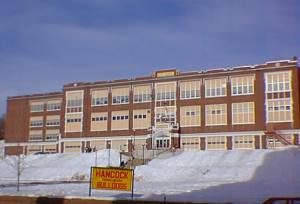 After the previous high school burned down on July 25, 1922, a new high school was constructed behind the site of the previous one. The Gothic Revival school had a large expanse of south-facing windows, consistent with Lockhart's interest in natural lighting in schoolrooms. These windows have been partially filled in.
Phillip Verville, son of the contractor, Archie Verville, recalled that a competition was held for the design of the new school. The building that Lockhart designed originally had a swimming pool in the basement, but it was eliminated in order to stay within budget. Structural steel components were also replaced with reinforced concrete columns and beams. Verville noted that many of the bricklayers were from Calumet, Iron Mountain, and Escanaba, and also worked on Houghton High School, which was under construction at this time. Construction came in on budget, which was $275,000.1
In 1999 the high school moved to a new building, up on Quincy Hill, and this became the Hancock Middle School. In 2014, Finlandia University acquired the building for the future home of their nursing school.
Buildings by G.L. Lockhart in the Copper Country
Notes
Phillip Verville, interviewed by Marie Cholette, 1997.