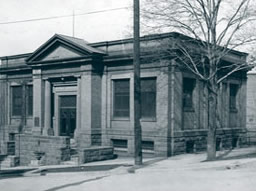 by Chase Sturos
Architect: Claude & Starck
Alternative Name: Portage Lake District Library, Carnegie Cultural Museum
Location: 105 Huron St., Houghton
Completed: 1910
Contractor: John Michels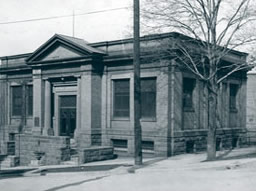 In 1908, John Doelle, Superintendent of the Portage Township School District, successfully led an effort to establish a public library in Houghton. The Houghton Public Library was constructed using a $15,000 grant provided by steel tycoon Andrew Carnegie, and was operated by the Portage Township School District for many years. More recently known as the Portage Lake District Library,1 the building was used as a library until the summer of 2006.
The Classical-Revival style building is brick on a Jacobsville Sandstone foundation. The flat roof has a parapet above a molded cornice. The pedimented central entrance dominates the façade. The doorway surrounds and window lintels and sills are smooth-faced Jacobsville sandstone. The 60'x 37'-8" building is essentially one story, but the steep slope of the street reveals a basement level on the downhill side.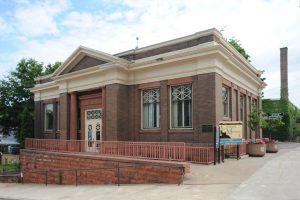 The main floor, which served as the reading room, has a rubble-stone fireplace and oak woodwork. The basement was dominated by a community room with a stage; this room was turned into a children's room full of books and videos. There was also a "historical room" and a magazine room in the basement.2
Buildings by Claude & Starck in the Copper Country
Notes
City of Houghton, Historic Houghton Virtual Tour, 21 January 2002, City of Houghton Preservation Committee.
"Historical Districts and Buildings of the Upper Peninsula. The Houghton Public Library," Collection # MS-046, MTU Archives.