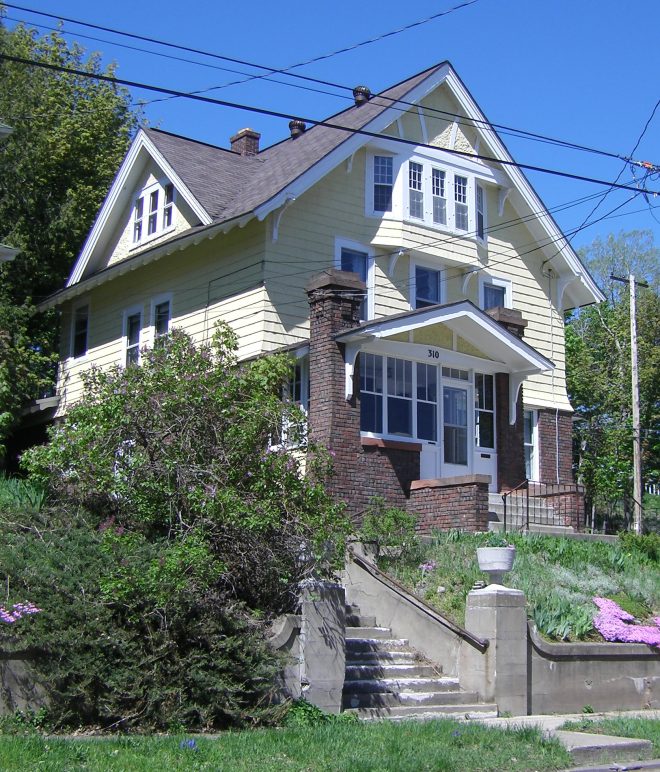 by Steven A. Walton.
Architect/Builder: Archie Verville (circumstantial)
Location: 310 Mason Ave., East Hancock
Built: c.1910.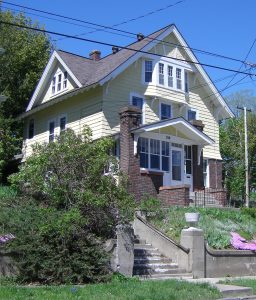 In 1911 Jacob Gartner, owner of Gartner's Department Store in Hancock, purchased the house at the corner of Mason Ave and White St. in the Quincy Addition as a wedding present for his daughter Lucile (Lucie).  The lot had originally been purchased from the Quincy Mining Co. for $1500 by Charles Matthews and wife on 18 Dec. 1909, but Gartner bought it from them on 4 March 1910 for $6400, suggesting the house had already been built. He willed the property to his daughter Lucile and her new husband, Hugo M. Field, on 31 Aug. 1911 (Jacob died in Dec. of that year). He likely had a hand in having the house built in 1910-11 while Hugo and Lucie were living in Moorehead, MN (presumably with his family), having been married on 18 Jan. 1910. Both Hugo and Lucy had been born in Germany, the partners emigrating in 1885 to Hancock and the Fields a decade later to Moorehead, MN. Hugo was a merchant who bought out Jacob Gartner's clothing department in 1909 and he shortly partnered with Sam M. Stern, to whom he was related on his mother's side, to form the Stern & Field clothing store chain, with stores across the upper midwest from Michigan to North Dakota (see a store in Ill. and some memories).  Field was during his time in Hancock a member of the school board, director for at least one of the banks in town, and member of the Hancock Lodge of Elks.1  After World War I, Hugo undertook a trip to Europe to aid the $14M American Relief Committee efforts to provide in the emergency relief for Russia suffering through the Russian Civil War (Reds vs. Whites following Lenin's death) and reconstruction and relief efforts in Eastern Europe.2
Lucile (Lucy) was one of three Gartner children and a very similar house was built one block below at 304 Harris Ave. in 1913 for her brother, Isidore. A letter3 to Isidore from the builder of that house, Archie Verville,  survives:
Sir, ­–
I propose to build residence in East Hancock for you, similar in every respect to Mr. Hugo Field's house with the following changes. Basement to be the same with the same kind of heating plant. First floor rooms to be same except the alcove off from the dining room to be omitted and parlor and dining rooms made longer. Fire place to be omitted and build in buffet in dining room. Parlor, dining room, hall vestibule, and main stairs to be finished in oak with maple floors. Second floor to be divided for three bedrooms and bathroom with clothes closet for each bedroom. This floor to be partitioned to suit owner. Attic to have one room finished for servant. House to be veneered first story with same kind of brick as H. Field's house or other brick to cost same price per thousand. Porch to be built full width of house. House to be furnished with storm windows andhalf window screens and door screens. All plumbing, heating, plastering and finish to have same general appearance as H. Field's house.
From this it is assumed that Verville had been the builder and likely architect of the Field house as well. The two houses (as well as another at 309 Mason) are indeed all of the bungaloid style and share many of the same general layout (all are a modified Foursquare with one quadrant a L- or C-shaped stairwell with single-rise servant stairs immediately behind) and detail features, though at various levels of refinement and orientation. For example, 309 Mason was built as a perfect mirror image of 310 Mason, but the stair balustrade spindles and front entry tiles are less refined. The neighborhood was built for the merchant gentry of Hancock and their new-found prosperity int hearty twentieth century: Lucile and Hugo's neighbors to the west, for example, were Henry L. Baer and his wife Hattie. By 1916, Baer was vice-pres Northern Michigan Building & Loan Assn. and vice-president of Superior National Bank of Hancock. He also served as the second mayor of Hancock.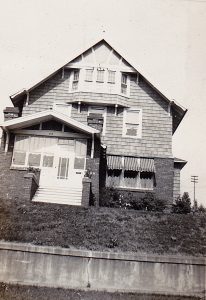 In 1928 the house was sold to Addison Finch, a bookkeeping clerk formerly residing at 309 Water St., Hancock, and his wife Florence for $1.00, suggesting the Finches were somehow related to the Fields.  Hugo and Lucy and their children moved to Akron, OH in 1926 and Hugo had the later 'distinction' of dying in a freak explosion at the Cleveland Clinic in 1929 while there for cancer treatment.  Lucy then moved to Waterloo, IA, to live with her son and his family.  The house remained in the Finch Family until the 1970s.
Notes
Gordon G Barkell, Hancock, Michigan Centennial, 1863-1963 (Hancock: Hancock Centennial Committee, 1963), pp. 85-86.
Flint Journal, Nov. 10, 1921.
Many thanks to Adolph and Janice Cox-Adolphs, current residents in the Isidore Gartner house, for sharing this letter with me.