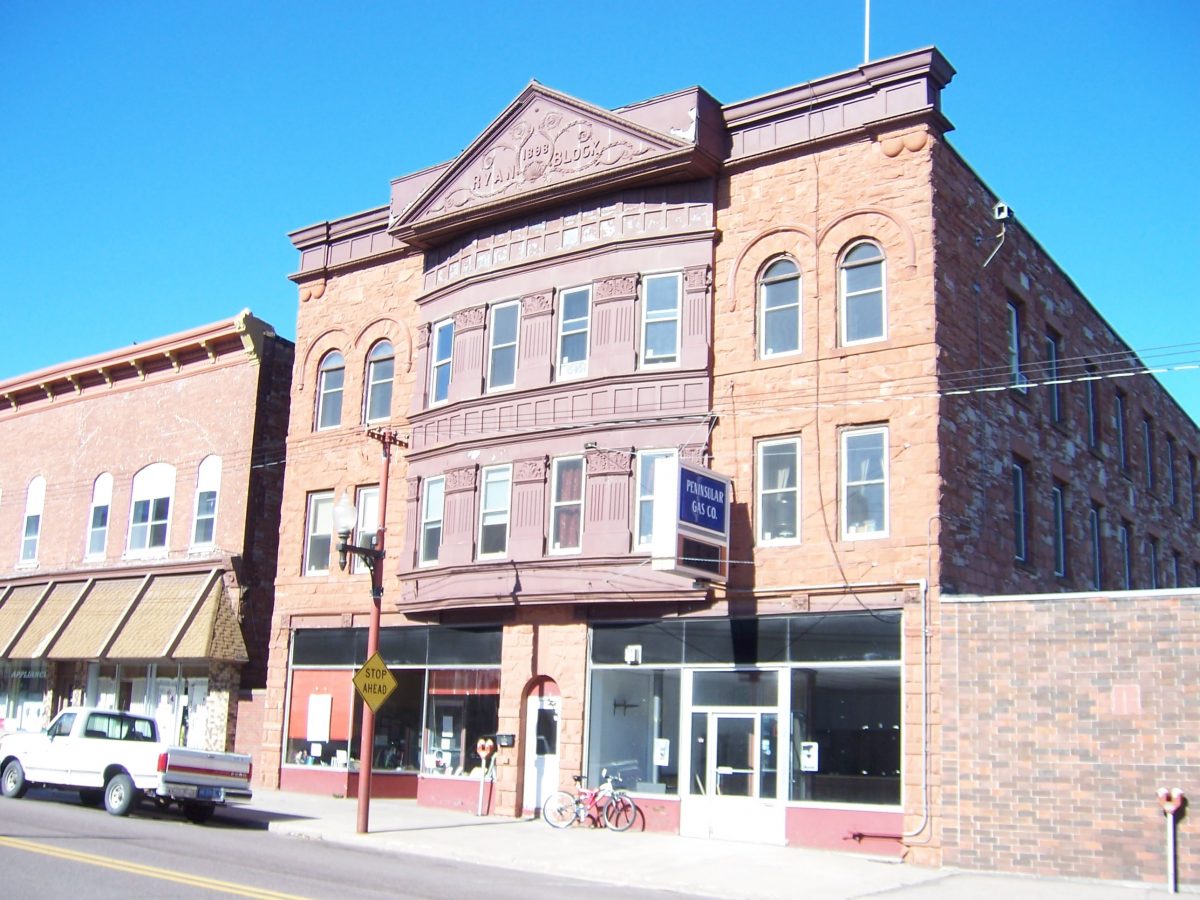 by Kiel Vanderhovel and Derek Dykens.
Architect: Charles K. Shand
Location: 305-307 6th Street, Calumet
Built: 1898
Contractor: L. E. Chausse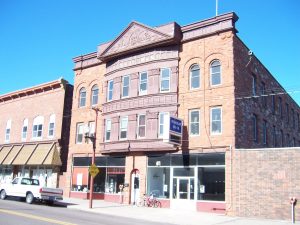 The Edward Ryan Block, also known as the Duane Girard Building, is a three-story building constructed with sandstone quarried from the Portage Entry. The structure is approximately 75' x 52'. This building was formerly occupied by the Daily Mining Gazette and the Peninsula Gas Company.1
Two large stores are located at street level, below two levels of flats. This symmetrical building has six bays with the middle four bays protruding from the center of the street façade in a bowed oriel. At the top of the protruding section is a pediment in the parapeted cornice. Subtle, delicate ornament is applied to the Ryan Block. The brown metal cornice has a repeating recessed square pattern creating a slight rhythm which is also present between the levels of the protruding section. Rough-faced coursed ashlar makes up the street façade, interrupted by smooth sandstone belt courses. In addition, smooth sandstone surrounds the arched center doorway and the arched upper windows. In the Copper Country Evening News of 9 June 1898, Shand announced that the Edward Ryan Building will "present a very imposing appearance and will be a credit to that portion of the city in which it is to be erected."2
Buildings by Charles K. Shand in the Copper Country
Notes
Coll. # MS – 046. Box 01 Folder 32, MTU Archives.
Copper Country Evening News, 9 June 1898.