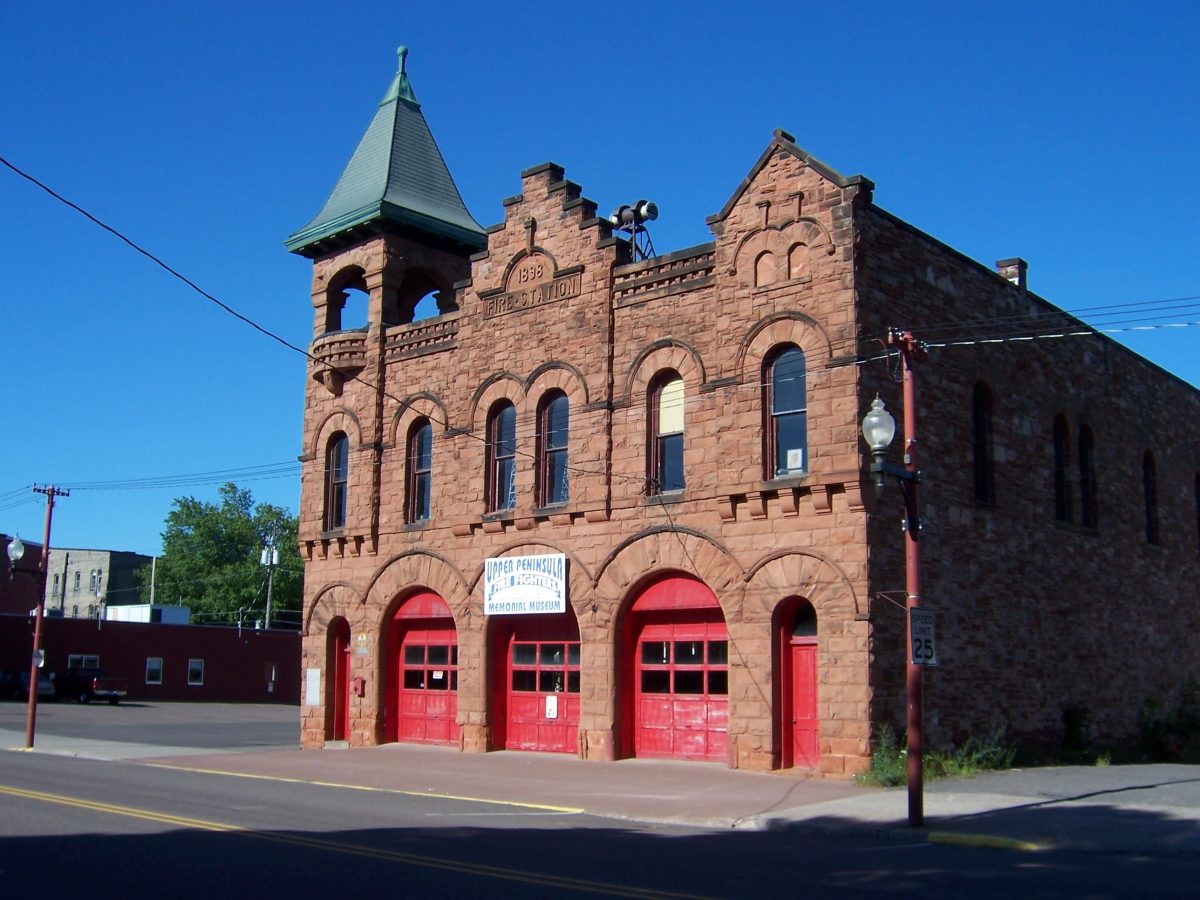 by Kiel Vanderhovel and Derek Dykens
Architect: Charles K. Shand
Location: 325 6th Street, Calumet
Built: 1898-99
Carpentry: Bajari & Ulseth
Masonry: Procissi & Company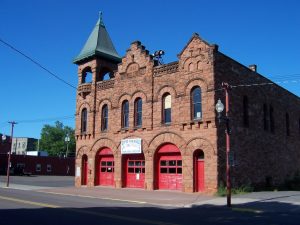 After a brush fire in 1870 destroyed approximately two-thirds of the Village of Red Jacket, the first fire department was created in 1875. In 1887 the village paid the fire-fighting force, rather than rely on volunteers. Shand was hired at the end of the century when the fire department was further modernized. Procissi & Company was hired to do the stone masonry. The building's construction cost $20,091.02.1 It housed the fire department until 1964 when it was moved to the Calumet Village Hall. The Red Jacket Fire Hall is still owned by the village and is a firefighting museum.
This two-story rectangular building is in the Romanesque Revival style, with round-arched openings in rough-faced Jacobsville sandstone. The Red Jacket Fire Station measured 83-1/2 feet deep and 54 feet wide; the stone of the second story is random ashlar and the first story is coursed ashlar.2 The windows and doors are round-arched. The top of the building has a crow-stepped central gable, with a bell tower in the southeast corner and a smaller pointed gable on the northeast corner. Each of the three project slightly from the building.
The first floor of the Red Jacket Fire Hall housed fire-fighting apparatus and horses. The main floor housed the vehicles and horses, while the second floor was composed of space for the supply of hay and feed for the horses, a twelve-bed sleeping apartment, bathroom, reading room, large recreation room, and marshall's office.3 In 1910, the Red Jacket Fire Hall housed two steam fire engines, one hose cart, one hook and ladder cart, and eighteen firefighters.4
When the building was completed, the Copper Country Evening News enthused: "Visitors to the new fire engine hall are unanimous in stating that it is the finest thing of its sort in the state…not only is the building fitted up in elaborate style, but the idea of making it an ideal fire engine house with respect to the perfect working of the fire fighting apparatus has been uppermost in arranging the interior of the building."5
Buildings by Charles K. Shand in the Copper Country
Notes
"Calumet Fire Station," National Register of Historic Places Registration Form (U.S. Department of Interior, National Park Service, 1974).
Coll. # MS – 046. Box 01 Folder 33, MTU Archives.
Coll. # MS – 046. Box 01 Folder 33, MTU Archives.
Copper Country Evening News, 2 May 1899, cited in National Register form for Calumet Fire Station.