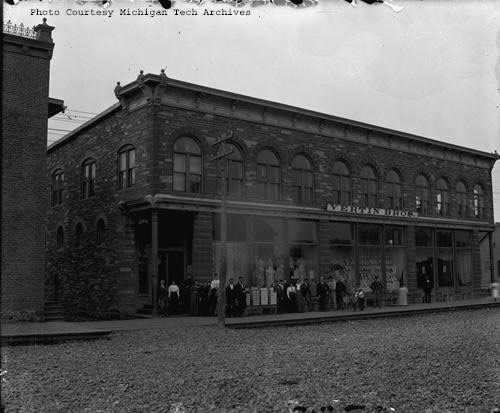 by Morgan Davis.
Architect: Charles W. Maass
Location: 216-220 6th Street, corner of Oak, Calumet
Addition: 1899-1900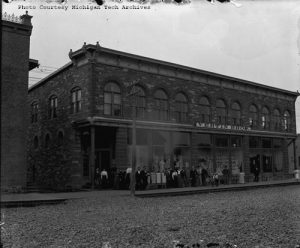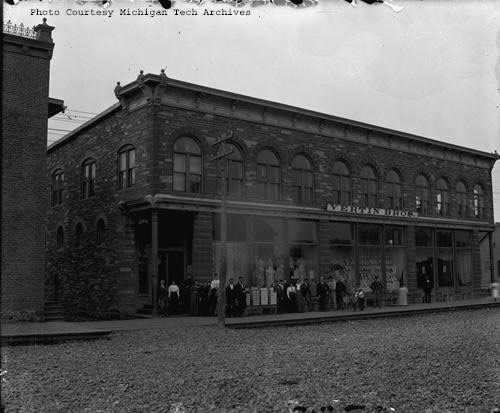 John and Joseph Vertin established this department store, which grew to be biggest in the Copper Country.
The 'big store' of the Copper Country housed everything a miner or millionaire family could need. Groceries, wallpaper, millinery, ready-to-wear, furniture, bedding, and appliances were available. Women's fashions kept pace with the times, Buyers would travel to New York and Chicago for the latest styles.1
In 1899-1900, two brick stories were added to the existing sandstone building.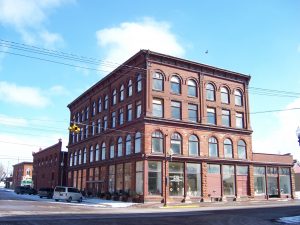 The original building had a row of round-arched windows at the second level topped by a modest cornice. In the addition, Maass maintained the same fenestration, with flat-arched windows with sandstone lintels on the third level and round-arched on the fourth. A bracketed cornice tops the building.
The Copper County Evening News crowned the remodeled store as the largest in the Upper Peninsula in an article written for the September re-opening:
All in all the new store will be a credit to the city and a model of its kind, fully up to any of the big department stores in the large cities and the enterprising firm of Vertin brothers deserve no little credit for the push and energy they have shown in progressing the way they have from a small beginning to such a mammoth store as they now own and control.2
The building currently houses art studios and galleries.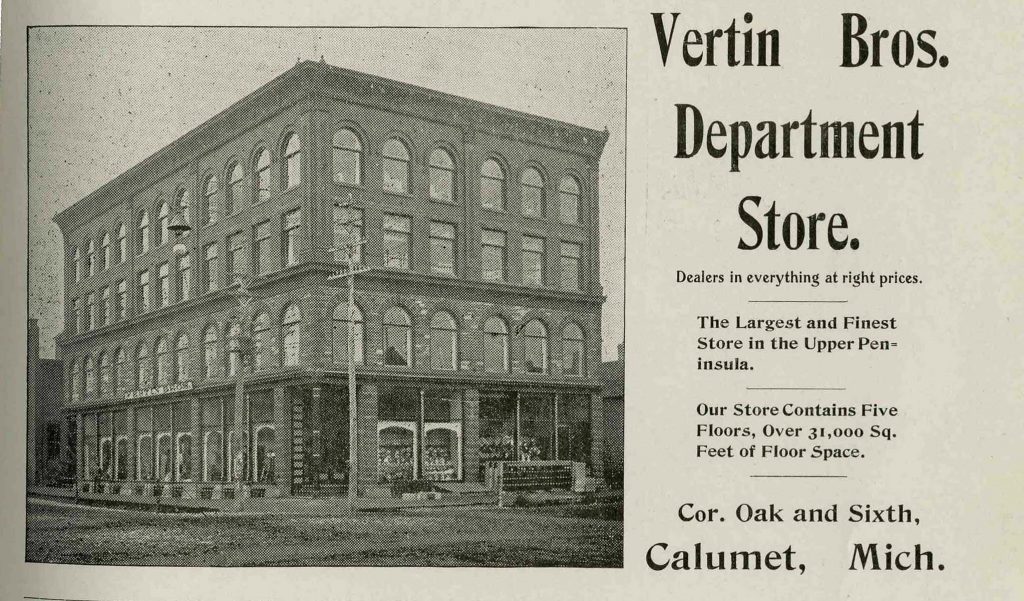 Buildings by Maass, et al., in the Copper Country
Notes
History of the Vertin Building, 2005, Vertin Gallery, 31 July 2006.
History of the Vertin Building, 2005, Vertin Gallery, 31 July 2006.